GVF / UK-EMP have unveiled the 2009 Oil & Gas Communications Summit series, which will will reveal cost-saving techniques and applications, state-of-the-art technologies, new network architectures, commercial trends, critical regulatory and spectrum-management considerations, and much more.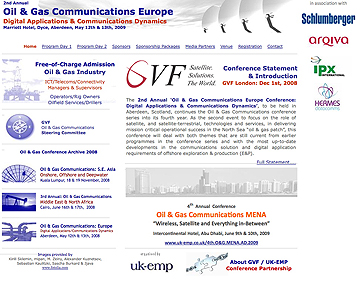 The program will feature key players in the communications services arena, including operators, manufacturers, value-added resellers, distributors, and retailers. Case-study presentations and an open-forum format — led by expert moderators from the broadband marketplace — will enable offshore communications professionals to obtain concrete solutions that will enable them to solve their most pressing challenges.
As downward pressure is exerted on the price of crude, oil and gas interests are quickly optimizing their investments in wireless, satellite, and fiber-based broadband communications to increase efficiency of exploration, drilling and production throughout the world. How energy-sector executives are applying state-of-the-art broadband solutions to increase profitability and add value to their businesses will be the primary focus during this year's series of Oil & Gas Communications Summits in Europe, the Middle East and Asia. The "Oil & Gas Communications Summit Series for 2009" will this year include the following top-level conferences:
Oil & Gas Communications Europe: "Digital Applications & Communications Dynamics", Marriott Hotel, Aberdeen, May 12-13
Oil & Gas Communications MENA: "Wireless, Satellite & Everything in Between", Intercontinental Hotel, Abu Dhabi, 9th & 10th June
Oil & Gas Communications SE Asia: "The Digital Oilfield Re-Defined: Onshore, Offshore & Deep & Ultra-Deepwater", Crowne Plaza Mutiara, Kuala Lumpur, 10th & 11th November
Each of the regional Oil & Gas Communications Summit Series will provide a targeted focus on how energy-sector executives can apply communications to run their networks to optimum effect through  localisation of operations, training and retention of personnel, automation, remote monitoring of mission-critical systems, emergency preparedness, social responsibility, and much more.