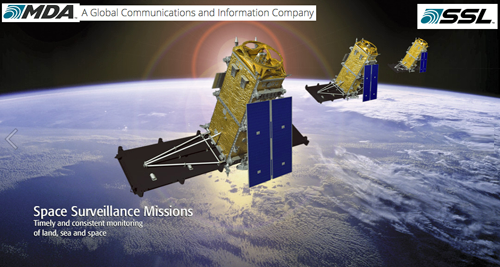 MacDonald, Dettwiler and Associates Ltd.
("MDA") (TSX: MDA) last week signed a contract with the National Oceanic and Atmospheric Administration (NOAA) — MDA will provide near real-time information from their RADARSAT-2 satellite that will be used to provide large and small scale ice and snow products, ice forecasting, and other monitoring services.

The contract includes one base year and three annual renewal options. The RADARSAT-2 satellite has global high-resolution surveillance capabilities that include a large collection capacity and high accuracy data acquisition.
The satellite acquires data regardless of light or weather conditions, and provides frequent re-visit imaging options. The information provided is ideally suited to markets that require either broad-area monitoring or targeted surveillance, such as maritime surveillance, defence and security, land use management, agriculture, disaster management, and natural resources.

David Belton, the VP responsible for the geospatial business, disclosed that MDA has supported NOAA for almost two decades and this contract demonstrates the strong relationship between the two entities as well as and the importance of RADARSAT-2 imagery to the US government.