[SatNews] ..."and that robust communication networks catalyze optimal response and recovery by providing both survivors and community leaders access to information and resources."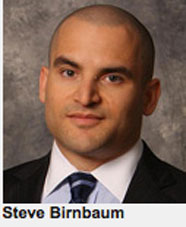 The U.S. White House honored Steve Birnbaum, the Global VSAT Forum (GVF) Chairman of Humanitarian Assistance and Disaster Response (HA/DR) Programs, for providing expert and innovative assistance that enabled a locally-driven community response through the use of High-Throughput Satellite (HTS) communications during the Hurricane Sandy relief operations and set the stage for more effective disaster preparedness worldwide.
In the aftermath of the massive hurricane that struck the U.S. in October 2012, Mr. Birnbaum was deployed by GVF to work as an inaugural member of the U.S. Federal Emergency Management Agency (FEMA) Innovation Team which—with support from GVF Members—concentrated combined efforts in the areas most devastated by "Superstorm Sandy".
"The White House's recognition of GVF's HA/DR Chairman as a 'Champion of Change' is a tribute to Steve Birnbaum's dedication and sets the stage for expanded use of satellite communications for disaster preparedness and relief throughout the world as a tool to empower grassroots community-led response and recovery," said David Hartshorn, GVF Secretary General.
Applying his knowledge of satellite communications, Mr. Birnbaum helped implement FEMA's "Whole of Community" approach to disaster response, which articulates that an effective response to a disaster requires the participation of the entire community, and that robust communication networks catalyze optimal response and recovery by providing both survivors and community leaders access to information and resources. Mr. Birnbaum and his colleagues put these principles into practice during the relief effort. He and the FEMA Innovation Team rallied local community leaders, non-government organizations (NGOs), government, industry, volunteers and GVF Members to deploy temporary disaster networks in the Rockaways, Redhook and Staten Island.
"This just-in-time telecommunications then empowered communities to coordinate their own volunteers, aid and donations," according to a White House statement. "Their accomplishments soon facilitated the spawning of new, grass-roots community outreach initiatives, such as a cadre of FEMA Corps volunteers who went door-to-door with newly-networked tablet computers to register survivors for assistance at their doorstep."
Through Steve's participation in the FEMA Innovation Team, and with support from GVF Members such as ViaSat, Hughes, and Cisco, whether it was for projects the Innovation Team was supporting, or in response to requests from others through the GVF Disaster Preparedness Registry, Steve supported the most devastated communities by utilizing new satellite systems and services to more quickly deploy communications and spread information between organizations and individuals.  
"This is a great opportunity to recognize the importance of communications and information after disasters, and a strong validation that the GVF Disaster Preparedness Program is on the right path. I am deeply honored to be a part of this recognition," said Steve Birnbaum.
Mr. Birnbaum will provide a lessons-learned debriefing during GVF's "High Throughput Satellite Roundtable", which will be held on May 21-22, 2013, at the Renaissance Downtown Hotel in Washington, D.C. GVF and its partner EMP are organizing the event as a community service, and attendance is available on a complimentary basis for pre-registrants, on a first-come/first-served basis. To pre-register contact Paul.Stahl@uk-emp.co.uk or go to.
During the debriefing, Mr. Birnbaum will also provide an update on progress of the GVF Disaster Preparedness Registry —including communications industry leaders such as ViaSat, Hughes and Cisco—and related GVF efforts that have also been applied in support of government and humanitarian disaster-relief efforts in Africa, Latin America, and Asia.