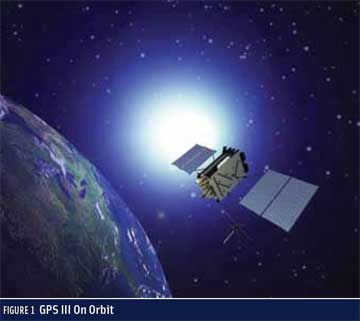 [SatNews] The successful power-up shows that the digital communications, telemetry and RF interfaces are working properly.
ITT Exelis (NYSE: XLS) has passed a key U.S. Air Force Global Positioning System III (GPS III) program milestone. The company has successfully integrated and performed the initial power up of the GPS III Non-Flight Satellite Testbed (GNST) Navigation Payload Element (NPE), or full-size payload prototype.
The GPS III team is led by the Global Positioning Systems Directorate at the U.S. Air Force Space and Missile Systems Center. Lockheed Martin is the prime contractor selected by the Air Force in 2008 to build the next-generation GPS III program, together with teammates ITT Exelis, General Dynamics, Infinity Systems Engineering, Honeywell, ATK and other subcontractors.
Air Force Space Command's 2nd Space Operations Squadron (2SOPS), based at Schriever Air Force Base, Colo., manages and operates the GPS constellation for both civil and military users.
"ITT Exelis continues to progress toward the delivery of this critical GPS III component," said
Mark Pisani
,
vice president and general manager, Positioning, Navigation and Timing Systems, Geospatial Systems, a division of ITT Exelis
. "
Successfully completing the initial power-up of the GNST Navigation Payload Element demonstrates our confidence that any issues will be identified and solved prior to building the first space vehicle. ITT Exelis is committed to providing our warfighters and commercial and civilian users more accurate and reliable capabilities that improve interoperability and jam-resistance."
The successful power-up of the GNST NPE system shows that the digital communications, telemetry and RF interfaces are working properly. It also assures that the system can be configured and operated correctly.
Scheduled for first launch in 2014, the next generation of GPS III satellites will deliver significant improvements compared with current GPS space vehicles. The new satellites, with capabilities yielding superior system security, accuracy and reliability, will improve position, navigation, and timing services for warfighters and civil users worldwide.
"The government and industry GPS III team is making excellent progress and the successful powering up of the navigation payload is the latest program milestone demonstrating we are on track to deliver the first satellite for launch in 2014," said
Lt Col
Don Frew
, the
U.S. Air Force's GPS III program manager
. "We are committed to executing the GPS III program to affordably and efficiently sustain and modernize the nation's GPS satellite constellation."
For more than 37 years, ITT Exelis payloads and payload components have been on board every GPS satellite. T
hey have accumulated more than 500 years of on-orbit life without a single mission-related failure due to ITT Exelis equipment.