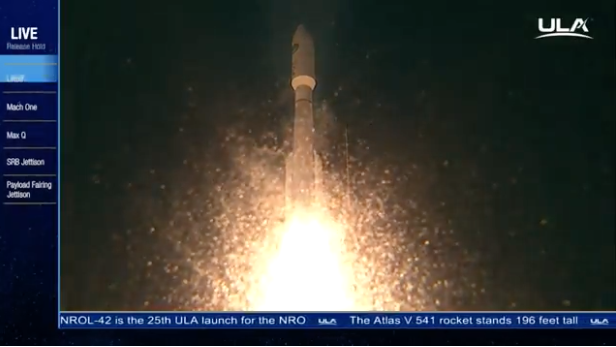 The night lit up as we watched the launch of ULA's Atlas V lift carrying NROL-42 with a classified national security payload at 10:49:47 PDT on Saturday, September 26 from Space Launch Complex 3, Vandenberg Air Force Base, California. Tonight's launch moved forward after the original launch date on Thursday, September 21 was scrubbed due to a battery that needed to be replaced on the Atlas V.
NROL-42 is believed to be the second spacecraft in the newest generation of Molniya-orbit signals intelligence satellites unofficially called Trumpet Follow-On. The highly-inclined orbit enables the craft to dwell over northern latitudes to collect surveillance.
This launch is ULA's sixth of 2017 and 121st overall. NROL-42 is the 25th mission that ULA has launched for the National Reconnaissance Office (NRO) since the company was founded in 2006. This mission will mark the 73rd Atlas V launch since its inaugural launch on August 21, 2002. The mission is to provide innovative overhead intelligence systems for national security.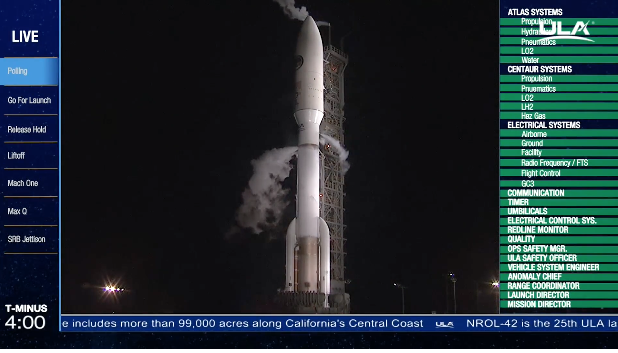 Headquartered in Chantilly, Virginia, the National Reconnaissance Office develops and operates overhead reconnaissance systems and conducts intelligence-related activities for U.S. national Security.
The NRO is the nation's eyes and ears in space, supporting policy makers, the Armed Services, the Intelligence Community, Departments of State, Justice and Treasury, and civil agencies. All of them depend on the unique capabilities NRO systems provide.
After a bit of a delay as shown on the Twitter comments, the launch proceeded.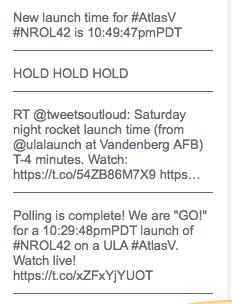 The National Reconnaissance Office's (NRO) systems are critical to National Security, U.S. policy makers, and war fighters. These systems provide the foundation for global situational awareness, and address the nation's toughest intelligence challenges. Frequently, NRO systems are the only collectors able to access critical areas of interest, and data from overhead sensors provides unique information and perspectives not available from other sources.
The NRO's key customers and mission partners include: policy makers, the Armed Services, the Intelligence Community, Departments of State, Justice and Treasury, and civil agencies. All of them depend on the unique capabilities NRO systems provide:
Monitoring the proliferation of weapons of mass destruction
Tracking international terrorists, drug traffickers, and criminal organizations
Developing highly accurate military targeting data and bomb damage assessments
Supporting international peacekeeping and humanitarian relief operations
Assessing the impact of natural disasters, such as earthquakes, tsunamis, floods, and fires

Together with other Defense Department satellites, the NRO systems play a crucial role in providing global communications, precision navigation, early warning of missile launches and potential military aggression, signals intelligence, and near real-time imagery to U.S. forces to support the war on terrorism and other continuing operations.
NRO satellites also support civil customers in response to disaster relief and environmental research. Scientists created a global environment database using NRO imagery to help predict climate change, assess crop production, map habitats of endangered species, track oil spills, and study wetlands. NRO data also forms the basis for products that help depict and assess the devastation in areas affected by natural disasters.
The National Reconnaissance Office, which develops and operates U.S. classified satellites, is taking a different approach. Though the NRO often deploys small experimental systems, the preponderance of its requirements will likely continue to be met with very large, highly capable and expensive satellites, says U.S. Air Force Maj. Gen. Susan Mashiko, deputy NRO director.
The NRO's innovation also inspired technology in everyday life with contributions to medical imaging, global communications, high-definition television, cellular phones, the global positioning system (GPS), and much more.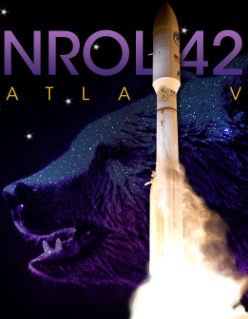 With its vigilance from above, the NRO gives America's policymakers, intelligence analysts, warfighters and homeland security specialists the critical information they need to keep America safe, secure, and free.
The NRO also maintains ground stations at Buckley Air Force Base, Colorado, Fort Belvoir, Virginia, White Sands Missile Range, New Mexico, as well as a presence at the Joint Defense Facility Pine Gap, Australia, and the Royal Air Force Base Menwith Hill Station, United Kingdom. NRO spacecraft launch offices reside at Cape Canaveral AFB, Florida and Vandenberg AFB, California.
The NRO, one of 16 Intelligence Community agencies, was officially established in September 1961 as a classified agency in the Department of Defense (DoD). The existence of the NRO and its mission were declassified in September 1992.
A hybrid organization consisting of some 3000 personnel, the NRO is jointly staffed by members of the armed services, the Central Intelligence Agency, and DoD civilian personnel. The NRO is managed by a Director, a Principal Deputy Director, and a Deputy Director.
The NRO is funded through the National Intelligence Program (NIP) and the Military Intelligence Program (MIP) consistent with the priorities and processes established by the DNI and the Under Secretary of Defense for Intelligence (USD(I)).