Claire Theobald, of the Edmonton Journal, posted an interesting story at the publication's infosite that spotlights the work of members of the University of Alberta and their AlbertaSat satellite.
With T-minus 4-1/2 months before the first Alberta-made satellite will be launched into space, Charles Nokes, project manager for the AlbertaSat team, said, "It's been the culmination of 3-1/2 years of work, so it's very exciting to see that come to fruition and actually get into space."
Students at the University of Alberta have been working on a CubeSat that will be launched into orbit with 50 other CubeSats as part of the QB50 mission. Each satellite is equipped with one of three sensors that will be dispersed through the Earth's lower thermosphere to measure how the thermosphere is impacted by space weather events. The thermosphere is a layer of Earth's atmosphere above the stratosphere and mesosphere, between 90 and 700 kilometers above the surface of the Earth, filled with atoms and molecules that absorbs large amounts of radiation from the sun. Space weather events, such as solar flares, can cause a spike in the density of electrons in the thermosphere.
"The lower thermosphere kind of breathes, it expands and contracts, so by having 50 satellites working together taking measurements all around the Earth at the same time, researchers will be better able to understand and visualize what that looks like," said Nokes.
According to Jan Thoemel, project manager of the QB50 mission, these fluctuations in the density of electrons in the thermosphere can interfere with satellite signals and even change the trajectory of satellites in orbit. An example of the impact of these large space weather events on Earth was the March 13, 1989, geomagnetic storm that wiped out a large part of Hydro-Quebec's power grid, leaving the province of Quebec without power for nine hours.
While Thoemel said large weather events like that are rare, moderate storms can disrupt satellite signals, interfering with GPS and other systems used to monitor aircraft or satellites.
To read the remainder of this informative article, please access this direct link...
---
A Concentration of Smallsat Industry Expertise SmallSat Symposium
February 6 through 8, 2017
Computer History Museum, Mountain View, California
Within the smallsat community, those who hesitate in preparing for and planning their next business moves within this dynamic environment could well be "left behind."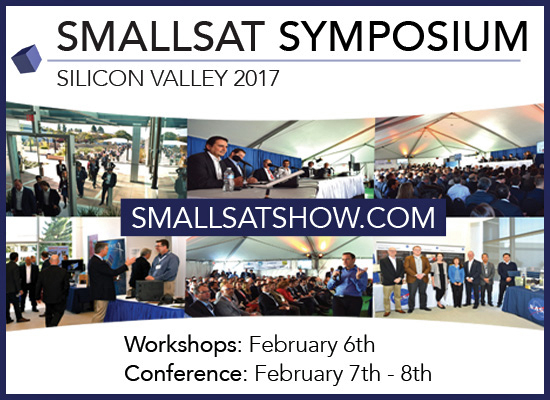 To assist in acquiring the knowledge and expertise to enter and/or continue the acquisition of technology and product to become a successful smallsat actor,
Satnews Publishers
is delighted to announce that the
SmallSat Symposium
workshops will be held on
February 6
and the conference will be conducted from
February 7 to February 8, 2017
, at the
Computer History Museum
, which is located at 1401 North Shoreline Boulevard in Mountain View, California.
A veritable "Who's Who" of subject-matter experts have already committed to presentations during this impact-filled symposium:

Accepted Speakers To Date
• Chad Anderson, Managing Director—Space Angels Network
• Eric Anderson, President—And One Technologies
• Jason Andrews, CEO—Spaceflight Industries
• David A. Anhalt, Vice President and General Manager—Iridium PRIME
• Jenny Barna, Launch Manager—Spire Global, Inc
• Chris Baugh, President—NSR - Northern Sky Research
• Chris Boshuizen, Principle—Data Collective VC
• Peter Beck, CEO & CTO—Rocket Lab
• Dr, Sami BenAmor, Director of Marketing—Thales Alenia Space
• John Booher, Partner—Hogan Lovells
• Phil Carrai, President—Kratos Technology and Training Division
• Dr. Sean Casey, Managing Director—Silicon Valley Space Center
• Carissa Christensen, Managing Partner—The Tauri Group
• Craig Clark, Founder—Clyde Space Ltd.
• Mike Collett, Founder and Managing Partner—Promus Ventures
• James Crawford, Founder and CEO—Orbital Insight
• Randy Culver, CEO—AMERGINT Technologies
• Erik Daehler, Director Product Innovation Network & Space Systems—Boeing Network and Space Systems
• Stuart Daughtridge, Senior VP Advanced Technology—Kratos
• Tahara Dawkins, Director, Commercial Remote Sensing Regulatory Affairs Office—NOAA
• Chris DeMay, Founder and COO—HawkEye 360
• Dr. Lars Dyrud, CEO—OmniEarth
• Dr. Shahin Farshchi, Partner—Lux Capital
• Dr. Jenny Gautier, Director of Commercial Programs—The Aerospace Corporation
• Dr. Alex Saltman, Senior Vice President—GeoOptics Inc.
• David Hartshorn, Secretary General—GVF - Global VSAT Forum
• Yvon Henri, Chief, Space Services Department—ITU
• Jonathan Hofeller, Vice President of Commercial Sales—SpaceX
• Susan J. Irwin, President—Irwin Communications, Inc.
• John P. Janka, Partner—Latham & Watkins LLP
• Adam Keith, Managing Director—Euroconsult Canada
• Andrew M. Kwas, Engineering and Technology Strategist—Northrop Grumman Corp.
• Wallis Laughrey, Vice President, Space Systems—Raytheon
• Debra Facktor Lepore, VP and GM of Strategic Operations—Ball Aerospace & Technologies Corp
• Chris Lewicki, President and CEO—Planetary Resources, Inc.
• Daniel Lim, President & CEO—Xtenti, LLC
• Tony Lin, Counsel, Washington, DC—Hogan Lovells
• Dr. Clare Martin, Vice President of Programs—Surrey Satellite Technology US
• Attila Matas, Head of the Space Publications and Registration Division—ITU
• Clayton Mowry, President—Arianespace
• Sunil Nagaraj, Vice President of Marketing and Communications—Bessemer Venture Partners
• Ryo Nakamura, Director, Business Development Department—Mitsubishi Heavy Industries
• Carlos Niederstrasser, Business Development & Special Initiatives—Orbital ATK
• Steve Oldham, Vice President, Strategic Business Development—Space Systems Loral (SSL)
• Dara A. Panahy, Partner—Milbank, Tweed, Hadley & McCloy
• Andrew Petro, Program Executive for Solar Electric Propulsion and Small Spacecraft Technology—NASA
• Christopher Richins, Cofounder & CEO—RBC Signals
• Will Pomerantz, Vice President for Special Projects—Virgin Galactic
• Randy S. Segal, Partner, Co-Lead Satellite Practice—Hogan Lovells
• John Stack, Managing Director, Aerospace Leader—The McLean Group Advisory Team
• Leon Stepan, Lead Mission Operations Analyst—Planet Labs
• David Strobel, CEO and Program Manager (PM)—Space Micro
• Chris Stott, Chairman & CEO (PM)—ManSat
• Tom Stroup, President—SIA - Satellite Industry Association
• Professor Sir Martin Sweeting, Founder and Executive Chairman—SSTL
• Stig-Are Thrana, U.S. Sales Director and Head of Kongsberg Silicon Valley Office—Kongsberg Satellite Services
• Dr. Joe Thurgood, Vice President Corporate Development and Marketing—Hera Systems
• Dr. Marco Villa, President & COO—Tyvak Nano-Satellite Systems
• Tony Wilkey, Senior Vice President—AvL Technologies
• Bruce Yost, Project Manager—NASA Ames Research Center
• Louis Zacharilla, Director of Development—SSPI
=> Here's some particularly good news for interested parties — the first 100 registrants will qualify for a $200 discount on the standard event admission... take advantage of this offer... don't dawdle... and register now at this direct link.