[SatNews] The steep-sided, cone-shaped Mount Merapi Volcano is both boon and curse to the people of Indonesia.
Volcanic ash from its frequent eruptions makes the soil fertile enough to support a large population. It is also one of Indonesia's most active volcanoes, posing a constant threat to the tens of thousands of people who live in its shadow. On October 26, 2010, the volcano once again turned destructive, unleashing a series of eruptions that continued as of November 4. To date, the eruptions have killed at least 44 people and forced 75,000 people from their homes, said
CNN
. The mountain has been shrouded in cloud throughout the duration of the eruption, but the
Advanced Spaceborne Thermal Emission and Reflection Radiometer
(
ASTER
) captured the thermal signature of hot ash and rock and a glowing lava dome when it flew over on
NASA
's
Terra
satellite on October 30. The thermal data is overlaid on a three-dimensional map of the volcano in this image to show the approximate location of the flow. The three-dimensional data is from a global topographic model created using ASTER stereo observations.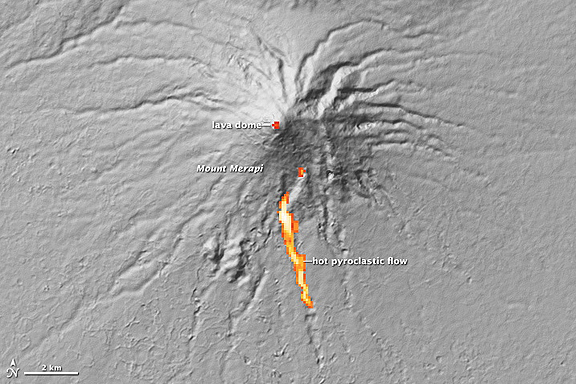 NASA image courtesy Robert Simmon and Jesse Allen using data from the NASA/GSFC/METI/ERSDAC/JAROS, and the U.S./Japan ASTER Science Team. Caption by Holli Riebeek.
The
Center of Volcanology and Geological Hazard Mitigation
reported that two pyroclastic flows moved down the volcano on October 30. A pyroclastic flow is an avalanche of extremely hot gas, ash, and rock that tears down the side of a volcano at high speeds. The ASTER sensor imaged one of those flows. Merapi shows no signs of slowing its eruption. After several days of eruptive episodes, the volcano began a more intense eruption on November 3 that was ongoing on November 4. The eruption is five times more intense than the eruption on October 26 and has lasted more than 24 hours, making it the most violent eruption at the volcano since the 1870s, said local geologists.