[SatNews] The second successful mission for the U.S. Air Force in just nine days...
Statement from ULA...
A United Launch Alliance (ULA) Delta IV rocket successfully launched the fifth Wideband Global SATCOM (WGS-5) satellite for the U.S. Air Force at 8:27 p.m. EDT today from Space Launch Complex-37. This mission launched just nine days after ULA successfully launched the GPS IIF-4 satellite last Wednesday, May 15.
"United Launch Alliance and our many mission partners continue to focus on mission success, one-launch-at-a-time," said Jim Sponnick, ULA vice president, Mission Operations. "We are honored to work with such a strong industry and government team and deliver another critical communication capability to orbit to support our nation's warfighters throughout the world."
This mission was launched aboard a Delta IV Medium-plus configuration vehicle using a single ULA common booster core powered by a Pratt & Whitney Rocketdyne (PWR) RS-68 main engine, along with four ATK GEM 60 solid rocket motors. The five-meter diameter upper stage was powered by a PWR RL10B-2 engine with the satellite encapsulated in a five-meter diameter composite payload fairing. The WGS-5 launch marked the third flight of the Delta IV medium+ (5,4) configuration and the 22nd flight of the Delta IV family of launch vehicles.
This was the first Delta IV launch following the low engine performance that was identified on the successful Global Positioning System (GPS) IIF-3 launch last October.  Although the GPS IIF-3 spacecraft was accurately placed into the required orbit, ULA, Pratt & Whitney Rocketdyne (PWR) and our U.S. Air Force teammates embarked on an investigation to determine why the upper stage engine performance was lower than expected.  Prior to this mission, rigorous hardware inspections along with vehicle and operational design modifications were implemented to prevent a recurrence of the fuel leak in the RL10 engine that was the direct cause of the low engine performance on the GPS IIF-3 launch.
"The team has worked tremendously hard and exceptionally well to complete a robust investigation and get us to a successful launch today," said Sponnick. "We sincerely thank the PWR team and our customer community for working with us throughout the investigation and flight clearance process, as well as the involvement from senior industry technical advisors."
Wideband Global SATCOM provides anytime, anywhere communication for the warfighter through broadcast, multicast, and point to point connections. WGS is the only military satellite communications system that can support simultaneous X and Ka band communications.
ULA's next launch is the Atlas V MUOS-2 mission for the U.S. Navy scheduled for July 19, from Space Launch Complex-41 at Cape Canaveral Air Force Station, Florida.
The EELV program was established by the United States Air Force to provide assured access to space for Department of Defense and other government payloads. The commercially developed EELV Program supports the full range of government mission requirements, while delivering on schedule and providing significant cost savings over the heritage launch systems.
ULA program management, engineering, test, and mission support functions are headquartered in Denver, Colorado.  Manufacturing, assembly and integration operations are located at Decatur, Alabama, and Harlingen, Texas. Launch operations are located at Cape Canaveral AFS, Florida, and Vandenberg AFB, California.
End of statement from ULA...
Statement from Air Force Space And Missile Systems Center...
LOS ANGELES AIR FORCE BASE, El Segundo, California - The U.S. Air Force's fifth Wideband Global SATCOM spacecraft (WGS-5) was successfully launched on a United Launch Alliance Delta IV launch vehicle at Cape Canaveral Air Force Station, Fla., on May 24, the first step in its journey to expand satellite communications services to the warfighter.
Over the next several months, the satellite will undergo orbit-raising activities to reach geosynchronous orbit and on-orbit testing to verify nominal performance and prepare the satellite for operational use. Ultimately, the satellite will be controlled by the U.S. Air Force's 3rd Space Operations Squadron at Schriever Air Force Base Colo. WGS-5 should enter operations by the end of 2013.
"WGS continues to meet user requirements and provides the highest capacity of any DoD communications satellite," said Mr. Luke Scab, chief Wideband SATCOM division, MILSATCOM Systems directorate. "WGS is a vital piece of the MILSATCOM enterprise consisting of WGS, Defense Satellite Communications System, Advanced Extremely High Frequency System, Minstar, and terminals providing diversified communications services to soldiers, sailors, marines and airmen around the world. This continued success is due to the hard work and dedication from the combined government and industry team."
The Space and Missile Systems Center, located at Los Angeles Air Force Base, Calif., is the U.S. Air Force's center of acquisition excellence for acquiring and developing military space systems including Global Positioning System, military satellite communications, defense meteorological satellites, space launch and range systems, satellite control network, space based infrared systems, and space situational awareness capabilities.
End of Statement from Air Force Space And Missile Systems Center...
Developed in partnership with the U.S. Air Force (USAF) Evolved Expendable Launch Vehicle (EELV) program, the Delta IV family of launch vehicles combines design simplicity, manufacturing efficiency, and streamlined mission and vehicle integration to meet customer requirements to launch high-priority USAF, National Reconnaissance Office (NRO), NASA, and commercial payloads to orbit.
With operational launch pads on both coasts—Space Launch Complex-37 at Cape Canaveral Air Force Station, Florida, and Space Launch Complex-6 at Vandenberg Air Force Base, California—every Delta IV configuration is available to service the requirements of current and future satellite programs.
The Delta IV launch system is available in five configurations: the Delta IV Medium (Delta IV M), three variants of the Delta IV Medium-Plus (Delta IV M+), and the Delta IV Heavy (Delta IV H). Each configuration is comprised of a common booster core (CBC), a cryogenic upper stage and either a 4-m-diameter or 5-m-diameter payload fairing (PLF).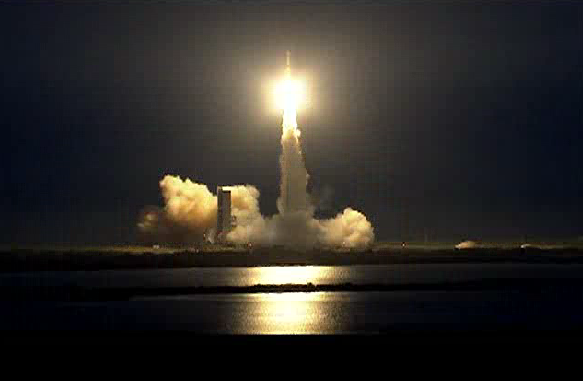 There are three variants of Delta IV M+ configuration. The Delta IV M+(4,2) uses two strap-on solid rocket motors (SRMs) to augment the first-stage CBC and a 4-m diameter PLF. The Delta IV M+(5,2) and Delta IV M+(5,4) have two and four SRMs, respectively and 5-m-diameter PLF.
History of WGS...

The wideband global SATCOM (WGS) system, previously known as the wideband gapfiller satellite system, is a high-capacity communication satellite principally designed and developed for the U.S. Department of Defense (DoD). WGS supports the Department of Defense's warfighting information exchange requirements, enabling execution of tactical command and control, communications, and computers; intelligence, surveillance, and reconnaissance (C4ISR); battle management; and combat support information. WGS also augments the current Ka-band Global Broadcast Service (on UHF F/O satellites) by providing additional information broadcast capabilities.
WGS is the DoD's highest-capacity satellite communications system. Each WGS satellite can route 2.1 to 3.6 Gbps of data—providing more than 10 times the communications capacity of the predecessor DSCS III satellite. Using reconfigurable antennas and a digital channelizer, WGS also offers added flexibility to tailor coverage areas and to connect X-band and Ka-band users anywhere within the satellite field of view. The system provides tremendous operational flexibility and delivers the needed capacity, coverage, connectivity and control in support of demanding operational scenarios.
The WGS systems feature digitally channelized transponded satellites that provide communication capacity, connectivity and flexibility to the U.S. military forces. These satellites operate in the programmed X- and Ka-band frequency spectrum.
A team led by Boeing Integrated Defense Systems was awarded a contract to develop the WGS system in 2001. The contract was worth $160.3m, and is extendible up to $1.3bn. Under the contract, Boeing's team will supply the satellites, spacecraft, payload control equipment, logistics, training and sustained engineering support.
The WGS system enhances the DoD's communication services currently provided by the defense satellite communications system (DSCS) satellites and the global broadcast system (GBS) operating at ultra high frequency (UHF).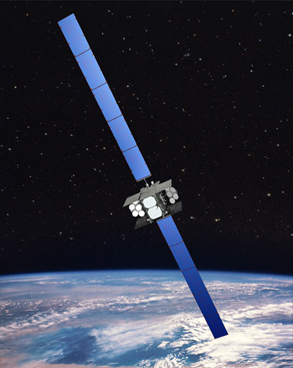 The system provides two-way X-band and Ka-band communications, as well as Ka-band broadcast services to U.S. armed forces and other allied forces worldwide. The X-band satellites transfer data, photos and videos to troops on the battlefield. In January 2011, Boeing conducted ground test for a Ka-band SATCOM antenna system for installation in the spacecraft.
The WGS satellite communication system has six satellites divided into two blocks. Block I contains WGS-1, WGS-2 and WGS-3 satellites, while block II satellites include WGS-4, WGS-5 and WGS-6.
Under an MoU signed with the DoD in 2007, the Australian Government will provide A$927m (US$822.7m) in funding for ground infrastructure of the sixth WGS satellite. In return, the Australian Defense Ministry will be given access to the data sent by the sixth satellite. The sixth WGS satellite is being developed to increase the bandwidth capacity of US forces.
HX System (for mobiles and airborne / maritime communications) of Hughes Network Systems has obtained Wideband Global SATCOM (WGS) certification by the U.S. Strategic Command in November 2010.
The WGS system comprises three main segments: space, terminal and control.