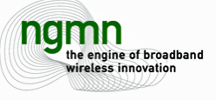 Founded in 2006, the Next Generation Mobile Networks (NGMN) Alliance's objective is to ensure that the functionality and performance of nexgen mobile network infrastructure, service platforms and devices will meet the requirements of operators and, ultimately, will satisfy end user demand and expectations.
The NGMN Alliance will drive and guide the development of all future mobile broadband technology enhancements with a focus on 5G, with the organization's activities supported by the strong and well-established partnership of worldwide leading operators, vendors, universities, and successful co-operations with other industry organizations.
Now, the Board of the NGMN Alliance has announced the launch of the 4.3-10 task force. This launch will highlight the NGMN Alliance's commitment to further enhance next generation networks and to offer recommendations to the industry. The NGMN 4.3-10 task force has been formed to encourage and facilitate the elaboration of a commonly agreed strategy between the NGMN partners to migrate the RF connectors to the new industry standard of 4.3-10 in the most efficient way.
In particular, the new NGMN project will aim to reach the following objectives and will comprise the following activities:
Defining a 4.3-10 connector migration proposal for RRUs, antennas and antenna line devices, including time plan
Defining scenarios and corresponding configuration strategies
Releasing a white paper as a recommended industry proposal for the migration to 4.3-10, targeted for being published in August 2016

According to Heino Cumpanas, NGMN 4.3-10 task force lead the industry has decided to replace the current RF connector, 7/16, with the small and modern 4.3-10, yet there is considerable uncertainty on the pace and timing of such migration, potentially leading to a decrease in the competitiveness of the markets during this transition period. NGMN, with its 4.3-10 task force, can help to align plans across the industry to minimize this risk.