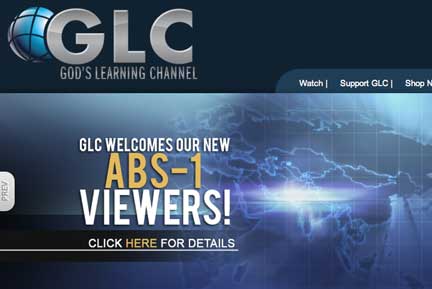 [Satnews] Learning about God just got bigger...
SatLink Communications Ltd. is extending its long-standing agreement with God's Learning Channel (GLC) to broaden its reach into Asia. The religious satellite broadcaster already delivered on Satlink's AsiaSat 5 C-band Multiple Channels Per Carrier (MCPC) digital platform to the Asia Pacific region and Middle Eastern markets and is now increasing its channel penetration with the addition of on ABS1 satellite at 75 degrees East on the Ku-band.
God's learning Channel is a satellite network dedicated to spreading the Christian gospel worldwide.  Originally set up in the American Southwest in 1982 by husband and wife team Al and Tommie Cooper, it has since grown to global proportions.  A key consideration in the selection of Ku-band was the fact that several other free-to-air religious channels are already broadcasting on this frequency, offering a greater potential for viewers who are channel hopping to discover God's Learning Channel. 
GLC joins SatLink's growing bouquet of religious networks, which also features the Daystar faith-based TV network, in spreading their messages to the Asian audience. Al Cooper, founder and President of Prime Time, commented, "Our aim is to spread the word of God to as many households and churches around the world as possible.  Being a religious broadcaster we have a strong affinity to Israel and we see benefit from both a technology and theological perspective in using SatLink's satellite services located as they are in Jerusalem connecting the three continents of Europe, Middle East and Asia."
David Hochner, SatLink's CEO added, "We are constantly seeking new ways to deliver our client's transmissions to the widest possible audience in a reliable and cost-effective way.  Adding Ku-band transmission from the ABS1 satellite allows the GLC to spread their message into the heart of Asia from Jerusalem in a secure and reliable manner."