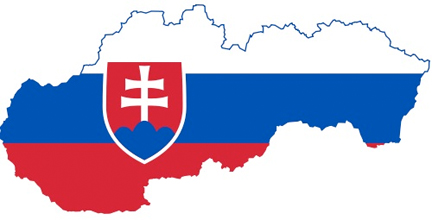 Astro Watch is reporting that Slovakia is gearing up to launch the nation's satellite into orbit with the aim of demonstrating the country's ability to carry out scientific experiments in space—this central European state is one of the last countries on the continent to have its own satellite.
The pocket-sized one-unit CubeSat, named skCUBE, is currently slated for liftoff this June atop a SpaceX Falcon 9 rocket that will liftoff from Cape Canaveral Air Force Station in Florida. Weighing about 2.2 lbs. (1 kg), skCUBE is a 4-inch (10-centimeter) cube that will carry an onboard computer, a communications system and a small camera to conduct experiments when orbiting Earth. The main goal of this project is to demonstrate that Slovakia is capable of doing highly sophisticated space research.
Backing the project is the Slovak Organization for Space Activities (SOSA), which was founded in 2009 to actively promote the entry of Slovakia to the European Space Agency (ESA). SOSA is the non-governmental entity that is developing the skCUBE project. Slovakia signed the European Cooperating State Agreement with ESA in February of 2015. The nation has been actively involved in space physics research and in astronautics, having two cosmonauts, the Czechoslovak Vladimír Remek (flew in space in 1978) and the Slovak citizen Ivan Bella, who spent nine days onboard the Mir space station in 1999.
skCUBE is also backed by the government, with the nation's Ministry of Education, Science, Research and Sport as well as the Ministry of Transport, Construction and Regional Development dedicating approximately 90,000 euros to the project. There are also a number of Slovak companies that will also offer their technical knowledge and employees to this cause, as well as additional financing. Although Czechoslovakia sent its first satellite into space, called Magion 1, in October of 1978, Slovakia, as an independent country, has not yet placed an indigenous spacecraft into orbit around Earth.
The tiny spacecraft is fitted with an electricity supply system, a sensory system and an orientation control instrument. The camera onboard the satellite will be capable of taking images with a resolution of 750 x 480 pixels. Its angle of view is 60 degrees and it contains infrared and neutral density filters.
SkCUBE is going to focus on ham radio experiments that will include the connection of two amateur radio operators via the satellite, the sending of basic telemetry data via Morse code for easy listening and high speed data and image transmission via the 2.4 GHz band. Radio amateurs from all over the world will have the capability to receive a picture, which will be marked with the skCUBE name, the call sign OM9SAT and a time stamp. The ham radio research will also include a VLF receiver with frame magnetic loop antenna, which allows recording of radio signals in the range 3 to 30 kHz, spectral analysis and data transmission to the ground. The data will be public, and can be used to further scientific analysis.
Other technological experiments include attitude control of the satellite in space using magnetic coil actuators, checking radiation resistance of critical technology components (DC-DC converters, current measurers, switching transistor, RAM and FRAM, FLASH memory).
"We want to show, that Slovakia has excellent universities, science institutions and companies which innovate and make our country a good name around the world and going to prove it through our first satellite, Made in Slovakia," said Lucia Labajova, Marketing Manager of the Slovak Organization for Space Activities (SOSA). "SkCUBE is developed and built by Slovak engineers and scientists as a national project demonstrating an excellent cooperation of our state, universities, students, companies and other supporters, such as astronomy fans."