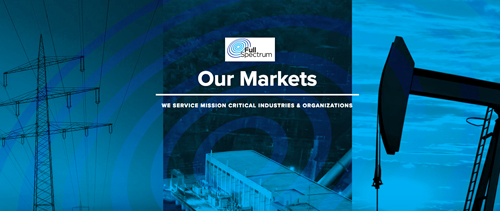 Full Spectrum Inc.
has elaborated on the new IEEE 802.16s wireless standard for the industrial Internet — this new standard enables secure wireless connectivity for critical applications such as electric grids, nuclear facilities, water, gas and hazardous pipelines, transportation (including rail and autonomous vehicles), and homeland security.
Two and half years ago, the Electric Power Research Institute (EPRI), the Utility Technologies Council (UTC) and 20 of the United States' largest utility companies initiated a process to develop a new wireless standard dedicated to the burgeoning need for increased industrial internet communications. The group designed the standard to meet industrial application demands for security, range, data rates and reliability — needs that were not being met by the consumer networks offered by the cellular operators such as Verizon, AT&T, Sprint and T-Mobile.
Full Spectrum served as an active participant in the creation of the standard, contributing key portions of its wireless technology portfolio to be integrated within the standardization process. The use of the Company's patented software defined radio (SDR) technology accelerated the completion of the standard, which has passed through various aspects of the approval process in near-record time. Further, the Company has also begun to implement a network service for mission critical entities, beginning in the New York City metro area, leveraging the new standard's capabilities.
Full Spectrum's technology, upon which the standard is based, was recently featured in an article from Cate Lawrence of the influential technology news website ReadWrite, as "[envisioning] a private nationwide network with a variety of secure and reliable applications — conducting autonomous vehicle traffic, sensor traffic for perimeter security, radiation sensors with high-end sensing, and data networks for specific applications…Mass adoption of Full Spectrum's technology will be revolutionary in improving reliability and efficiency, and in replacing aging infrastructure."
Stewart Kantor, the CEO and co-founder of Full Spectrum, stated this company is looking forward to advancing the adoption of the industrial Internet and the benefits such offers to increased productivity, safety and security.