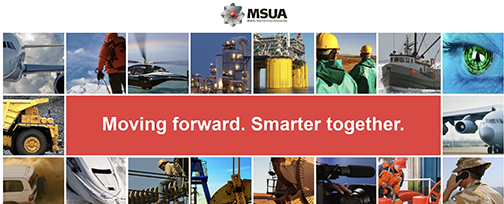 Mobile Satellite Users Association (MSUA) has announced their 2020 Board of Directors, Board Leadership, and the organization also welcomes three new association members.
MSUA is a nonprofit association dedicated to promoting satellite mobility innovation and the development of satellite mobility markets worldwide. The association fosters the exchange of news, information, and ideas among mobility providers and users, including those focused on communications, navigation, safety, and other evolving new digital era applications.
Representing mobility market leaders operating in markets and geographies around the world, MSUA's 2020 Board of Directors includes, (in alphabetical order):
Rebecca Cowen-Hirsch, Senior Vice President, Government Strategy & Policy, US Government Business Unit, Inmarsat
Lisa Dreher, CEO, GuideForce
Erwan Emilian, Executive Vice President Enterprise & Emerging Markets at Speedcast
Kim Bille Gram, Vice President, New Business Development, Cobham SATCOM
Richard Hadsall, Global Vice President, Network Operations at Kymeta Corporation
J. Alberto Palacios, CEO, Globalsat Group
Morris Shawn, President of Roadpost Inc.
John Stolte, Executive Vice President, Technology and Operations, ORBCOMM
Mark Sykes, Director, Applied SatelliteTechnology (AST)
Erwan Emilian of Speedcast was re-elected to serve as the Board Chair and Mark Sykes of AST was elected to serve as Vice-Chair. Additionally, John Stolte of ORBCOMM will continue serving as Board Treasurer, and Lisa Dreher of GuideForce will continue as Chair of MSUA's Mobility Marketing Committee.
Emilian, MSUA Board Chair, said this year, MSUA will be rolling out a couple of exciting new programs, including a new podcast series and development of new satellite user communities and added that he is excited to be teaming with MSUA's new Vice-Chair, Mark Sykes, and to be collaborating with all members of the MSUA board, association, and staff to promote MSUA's vision of promoting satellite in the transforming digital world.
This year MSUA welcomes new members XipLink, Pivotel America, and OmniSpace and encourages other mobility-focused satellite groups to join the association too.
MSUA is preparing to celebrate this year's SATELLITE 2020 Mobility Innovation Award Contest Winners at a luncheon scheduled for Tuesday, March 10, 2020. Dr. Mark Matossian, CEO, ICEYE's US subsidiary and formerly of Special Projects at Google, will be this year's keynote speaker.
Catherine Melquist, President of MSUA, said that Dr. Matossian will be an ideal speaker for MSUA's luncheon. He's uniquely qualified to share insights and guidance on market dynamics from inside and out of the satellite industry.
For more information about MSUA, visit www.msua.org.