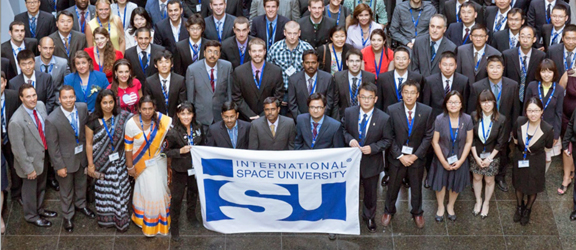 Strengthening ties between the International Space University (ISU) and the University of South Australia (UniSA) have enabled five graduates of the 2016 Southern Hemisphere Space Studies Program (SH-SSP) to take advantage of an international network of space experts to pursue an exciting range of space-related research projects.

ISU Faculty members based in Europe and North America will guide the individual research projects over the next four months. The projects will involve proposing innovative solutions to problems in the fields of space medical science, space law, space biology, advanced propulsion and advanced remote sensing. Successful completion of these projects will lead to the award by UniSA of a Graduate Certificate in Space Studies.

UniSA course director and ISU Faculty member, Associate Professor David Bruce, indicated that participation in the Graduate Certificate enables participants to explore in detail space topics or problems of deep interest stimulated by their ISU studies. Additionally, students can also use the Graduate Certificate as an entrée to Masters programs, such as the ISU Master of Space Studies and further research studies at Master's or PhD levels. Participation in the Graduate Certificate in Space Studies is open to ISU graduates from both northern (SSP) and southern hemisphere programs (SH-SSP).
At the Closing Ceremony of this year's Southern Hemisphere Space Studies Program, the Vice-Chancellor of UniSA, Professor David Lloyd, endorsed the collaboration with ISU and announced the continuation of the Southern Hemisphere Space Studies Program in Adelaide in January 2017. This will launch a historic year for Adelaide in the realm of space with the International Aeronautical Congress being held there in the following September.

The next SH-SSP session is scheduled for January 9 to February 10, 2017. The residential component of the Graduate Certificate course in Adelaide Australia will run from February 13 to 15, 2017. Registrations of interest from SSP alumni are now being accepted.
Southern Hemisphere Space Studies Program (SH-SSP):
http://www.isunet.edu/about/southern-hemisphere-program
http://www.shssp.education

UniSA Graduate Certificate in Space Studies:
http://programs.unisa.edu.au/public/pcms/program.aspx?pageid=325&sid=297

ISU:
http://www.isunet.edu/