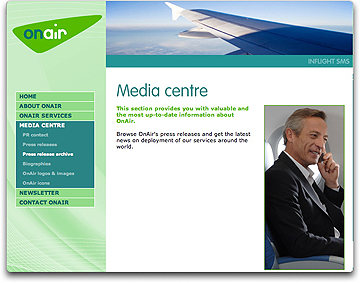 A record has been reached by OnAir, which announced its 10,000th flight with the Mobile OnAir inflight connectivity service in commercial operation.
OnAir reports themselves as the leader in onboard connectivity both in terms of number of flights and airline customers. The milestone underlines the speed with which OnAir services are becoming commonplace onboard aircraft: the number of flights with the service is set to exceed 100,000 before the end of the year.
The 10,000th flight itself was a TAP flight from
Lisbon to Munich.
Since December 2007, Mobile OnAir services have been used on flights to
162 cities in 34 countries in Europe, the Middle East and North Africa
.

Mobile OnAir uses a dynamic and extensive infrastructure for mobile communications, along with
Inmarsat SwiftBroadband
. OnAir is the only connectivity provider operating flights which use the latest generation of
Inmarsat's I4 satellites
. This gives passengers and airlines the best reach and performance available today for both voice and data. Passengers use their mobile phones or BlackBerry-type devices just as they would on the ground. 
Benoit Debains
,
CEO of OnAir
, commented: "This is a significant milestone and underlines how quickly our operations are expanding across a variety of markets. The feedback from inflight experience shows that phone use inside aircraft does not create any discomfort to passengers — we have not heard of one single complaint. In addition,
we are seeing a host of new applications which will deliver additional services.
"
Confirmed demand for inflight passenger communications is reflected in the growing number of commercial airlines and private aviation companies which either currently offer OnAir inflight communications services or will offer them in the near future. This includes airlines such as
AirAsia, AirAsia X, Airblue, British Airways, bmi, Jazeera, Kingfisher, Oman Air, Qantas, Royal Jordanian, Ryanair, Shenzhen Airlines, TAM, TAP and Wataniya Airways
. In addition, OnAir is negotiating agreements with a number of major airlines which will be announced during the course of 2009.
OnAir also serves private VIP and governmental customers through partnerships with
Airbus Corporate Jets, Aviation Centre Cologne and Jet Aviation
.