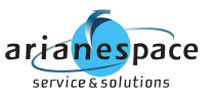 Arianespace manages yet another milestone — their Ariane 5 launch vehicle is now in position to receive both the Intelsat 33e and Intelsat 36 payloads for the Flight VA232 August 24th launch.
Both of the satellites advanced through their pre-flight preparations at the Spaceport in French Guiana. In fact, the Intelsat 33e began receiving the propellant load within the S5 payload preparation facility this week. Both spacecraft on this upcoming mission to geostationary transfer orbit will be operated by Intelsat following their Ariane 5 deployment.
Intelsat 33e will ride in the upper position of Ariane 5's payload configuration and will be released first during the flight sequence. Produced by Boeing Space Systems, this is the second spacecraft of Intelsat's nexgenn Intelsat EpicNG series and integrates one of the most advanced digital payloads commercially available today. The first EpicNG-series satellite—Intelsat 29e—was successfully orbited on an Ariane 5 mission performed in January of this year.
Intelsat 36, which was built by SSL (Space Systems Loral), is to be installed in the Ariane 5's lower payload position. After reaching target orbit, the satellite will enhance Intelsat's premier DTH neighborhood in Africa.