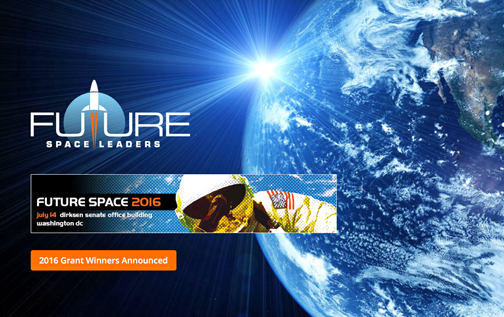 Dedicated to the career development of young satellite and space industry professionals, the Future Space Leaders Foundation 501(c)(3) non-profit organization raises funding for grants for deserving graduate students and professionals seeking careers in the space industry.
The foundation has just announced the nine winners of their annual Future Space Leaders Grant Program, which will cover the expenses associated with participating in the 67th International Astronautical Congress (IAC) in Guadalajara, Mexico. The nine grant winners will also have access to other industry events including: Future Space 2016, the AAS Goddard Memorial Symposium, NSC Goddard Memorial Dinner, Satellite 2017, SGAC Congress and Fusion Forum, SSPI Gala, SSPI Future Leaders Dinner, AIAA Spotlight Awards Gala and ISPCS.
After a rigorous and competitive application process, the grant winners were selected on the basis of their commitment to the advancement of space sciences and the quality of the abstracts they will present at the 67th IAC. The 2016-17 FLSF grant winners are:
Travis Doom is an Aerospace Analyst at The Tauri Group
Alexander Gibson is a Space Operations Officer at Army National Guard and masters student in Aerospace Engineering at the University of Colorado at Boulder. He also serves as the Regional Coordinator, Space Generation Advisory Council
Tara Halt is a masters student in International Science and Technology Policy at George Washington University
Kavya Manyapu is a Flight Crew Operations Engineer on the CST-100 Starliner Program at The Boeing Company and a Ph.D candidate in Aerospace Sciences researching planetary spacesuits at the University of North Dakota
Tomoya Mori is a research assistant at WayPaver Foundation
William O'Neill is a PhD student in Aeronautical and Astronautical Engineering at Purdue University
Javier Stober is a Ph.D. Candidate in Aeronautics and Astronautics at Stanford University
Dr. Danielle Wood is the Special Assistant to the Deputy Administrator at NASA Headquarters
Brittany Zimmerman is a masters student in Space Studies at the University of North Dakota
Clayton Mowry, the organization's chairman, stated his organization is excited to provide access to the IAC and other iportant industry symposia for this promising group of your space and satellite professionals.