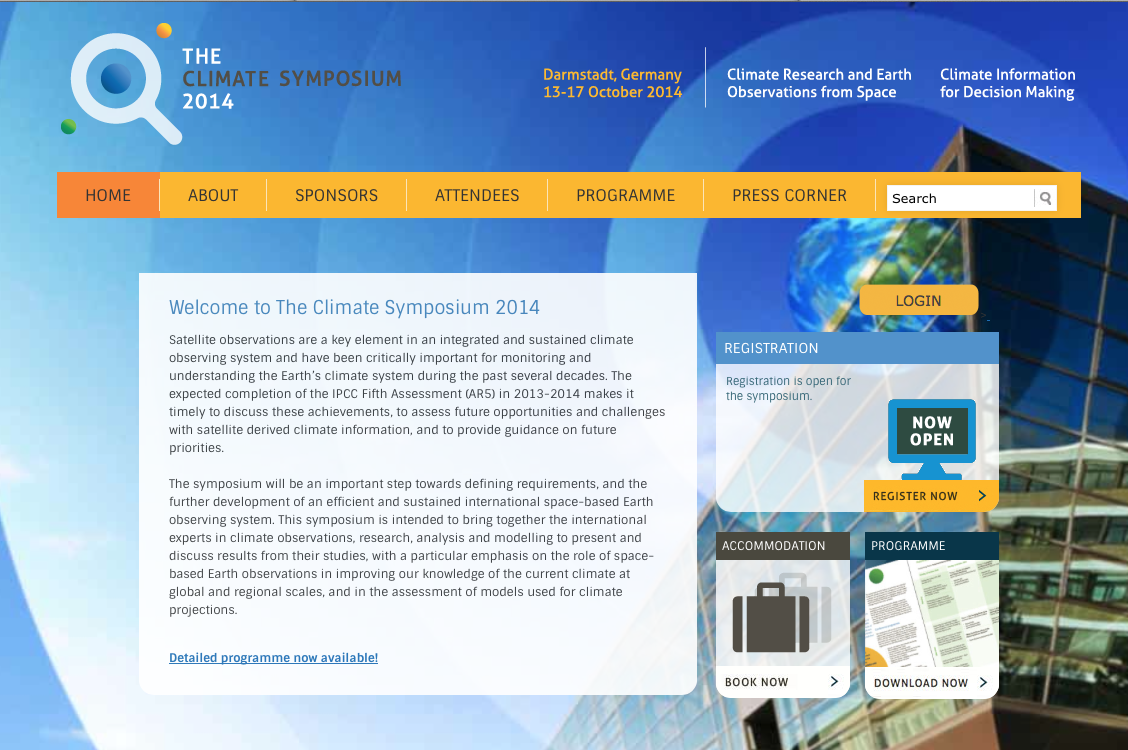 [SatNews] ... expected to benefit climate-related risk management, and help to underpin the development of climate change mitigation and adaptation options.
Between 13 and 17 October 2014, the Climate Symposium will address "Climate Research and Earth Observations from Space/Climate information for decision making", bringing together over 500 global climate experts, policy makers and representatives from industry and international space agencies in Darmstadt, Germany.
Thursday, July 10, 2014

Taking place directly after the release of key elements of the Intergovernmental Panel on Climate Change (IPCC) Fifth Assessment Report, the symposium and its follow-on activities are expected to benefit climate-related risk management, and help to underpin the development of climate change mitigation and adaptation options.
Climate change impacts natural and human systems on all continents and across the oceans through rising sea levels, heat stress, water-borne illnesses and an increase in severe weather phenomena. The symposium will benefit climate research, modelling and prediction by initiating the development of an international space-based climate observing system in response to the needs of the Global Framework for Climate Services (GFCS) and the Global Climate Observing System (GCOS).
On October 13, the symposium will be kicked of by policy makers from Germany and the European Commission, as well as managers of climate observation, research and assessment programs. Speakers include Ms Brigitte Zypries, German State Secretary for Economic Affairs and Energy, Mr Michel Jarraud, Secretary-General of the World Meteorological Organization, and Ms Barbara Ryan, Director of the Group on Earth Observations. Opening addresses will also be given by David Carlson, Director of the World Climate Research Program, and Julia Slingo, Chief Scientist at the Met Office (UK).
The Climate Symposium is organized by the WCRP and EUMETSAT, with the support of the European Commission, the European Space Agency, and the City of Darmstadt. Other sponsors are GFCS, GEO, JAXA, DLR, NOAA, CNES and NASA.
For more details of the symposium program, visit the Climate Symposium web site.
To read more about EUMETSAT's contribution to international climate change monitoring follow the newly launched Climate blog.
Organization for the Exploitation of Meteorological Satellites is an intergovernmental organization based in Darmstadt, Germany, currently with 30 Member States (Austria, Belgium, Bulgaria, Croatia, Czech Republic, Denmark, Estonia, Finland, France, Germany, Greece, Hungary, Iceland, Ireland, Italy, Latvia, Lithuania, Luxembourg, the Netherlands, Norway, Poland, Portugal, Romania, Slovakia, Slovenia, Spain, Sweden, Switzerland, Turkey and the United Kingdom) and one Cooperating State (Serbia).
EUMETSAT operates the geostationary satellites Meteosat-8, -9 and -10 over Europe and Africa, and Meteosat-7 over the Indian Ocean.
EUMETSAT also operates two Metop polar-orbiting satellites as part of the Initial Joint Polar System (IJPS) shared with the US National Oceanic and Atmospheric Administration (NOAA). The Metop-B polar-orbiting meteorological satellite, launched on September 17, 2012, became prime operational satellite on 24 April 2013. It replaced Metop-A, the first European polar-orbiting meteorological satellite, which was launched in October 2006. Metop-A will continue operations as long as its available capacities bring benefits to users.
The Jason-2 ocean altimetry satellite, launched on 20 June 2008 and exploited jointly with NOAA, NASA and CNES, added monitoring of sea state, ocean currents and sea level change to the EUMETSAT product portfolio.
The data and products from EUMETSAT's satellites are vital to weather forecasting and make a significant contribution to the monitoring of environment and the global climate: With almost 40 years of data, EUMETSAT's operational meteorological satellites and the high-quality instruments they carry form an invaluable asset for climate monitoring and the understanding of climate change. EUMETSAT has a long-term perspective in maintaining satellite systems and their role will become increasingly important with the next generations of the systems in geostationary and polar orbit.