[Satnews] ORBCOMM Inc. (Nasdaq: ORBC), a global provider of Machine-to-Machine (M2M) and Internet of Things (IoT) solutions, and Add On Systems, Inc. (AOS), a leading provider of real-time interfaces and applications for truckload carriers, today announced the successful integration of ORBCOMM's fleet tracking and monitoring system with the AOS's Trailer Monitoring and Management (TMMi) system.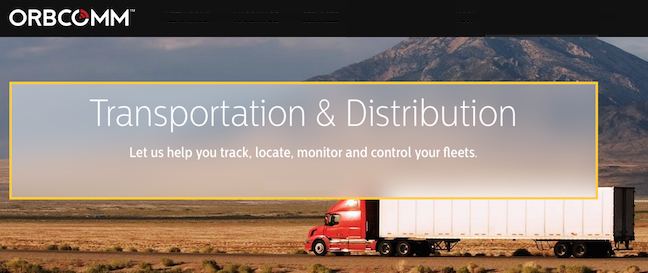 ORBCOMM's advanced platform integrates closely with AOS's dispatch software to provide trucking companies across North America with the ability to capture near real-time trailer data for both refrigerated and dry transport assets through one comprehensive system. Leveraging ORBCOMM's GT 1100 dry van trailer tracking solution and its RT 6000+ cold chain monitoring solution, customers will have access to valuable trailer data, including temperature, mileage, fuel levels, operational condition, alarm events and GPS position.
ORBCOMM is currently the only company to offer two-way communications integration with the AOS platform, providing customers with command and control over their assets, including the ability to turn the reefer on/off, set temperatures, control reefer profile settings, switch between continuous and start/stop modes and clear reefer alarms remotely. The ORBCOMM interface will enable AOS's customers to improve the efficiency of their business operations, optimize trailer utilization and management, increase customer satisfaction and reduce temperature-related cargo losses.
"Through ORBCOMM's collaboration with Add On Systems, we can provide trucking companies with end-to-end traceability of their trailers and the cargo they carry, so they can be more efficient, responsive and compliant with maintaining food safety and quality standards," said Christian Allred, Senior Vice President of ORBCOMM Enterprise Solutions. "This comprehensive platform gives our customers the flexibility they need to manage both their dry and refrigerated trailers using one system with two-way command and control over their entire fleet."
"ORBCOMM's two-way integration with TMMi connects our customers to a powerful trailer monitoring and management system that streamlines the process of tracking their assets' location, usage, history and status," said Kevin Campbell, Vice President of Add On Systems, Inc. "The system's robust event capturing and reporting technologies ensure that the carrier's operations team has the insight they need to reduce tractor-to-trailer ratios, more efficiently manage trailer pools, maintain the integrity and security of a customer's freight and provide accurate detention times."
"The ORBCOMM interface with TMMi speeds the delivery of critical data, alarms and alerts from our trailers to our driver support staff so we can quickly take action if needed to provide the highest level of service and dependability to our customers," said Andy Morris, Vice President of Information Services for KLLM Transport Services, LLC. "All of our customers' shipments are temperature and/or time-sensitive, which makes it extremely important to have real-time information about our fleet where and when we need it, which in turn helps KLLM optimize trailer utilization and lower operating costs."