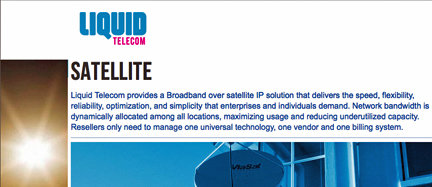 [SatNews] Liquid Telecom, a data, voice and IP provider in Africa, is stepping up resources leased from Eutelsat Communications (Paris:ETL) to meet increasing demand for IP connectivity from a broad portfolio of clients that include national parks, out of town offices and remote mining and exploration companies.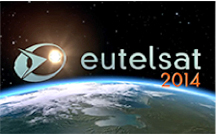 Liquid Telecom and Eutelsat have extended their relationship to 2019 with a new multi-transponder contract for satellite capacity delivering premium coverage of Sub-Saharan Africa. The additional capacity is on the EUTELSAT 7B satellite that joined EUTELSAT 7A at 7 degrees East on July 16th. Liquid Telecom has also transferred existing traffic at 7 degrees East onto EUTELSAT 7B to take advantage of the performance of its African footprint and has plans to ramp-up further capacity over the coming 12 months.
The new resources support Liquid Telecom's objectives to expand satellite operations in Africa. As part of a multi-million dollar (US) investment in its satellite business, the company recently became the first operator to build a satellite hub at Teraco's vendor-neutral earth station in South Africa. The hub enables Liquid Telecom to route African traffic in Africa rather than backhauling it via Europe as many operators need to do. By keeping African data in Africa, it can measurably increase connectivity speeds for its customers.
Rodney Benn, Eutelsat Regional Vice President for Africa, said, "As a longstanding partner of Liquid Telecom we are delighted to take our collaboration to a new level with this multi-year agreement that highlights the value of our enhanced resources at 7 degrees East as they contribute to building a digital infrastructure across Africa. Liquid Telecom has integrated satellite as core to their vision of quickly and efficiently taking Internet connectivity to the parts of Africa that other infrastructure has forgotten."
The Liquid Telecom infosite may be accessed at http://www.liquidtelecom.com/.
The Eutelsat infosite is located at http://www.eutelsat.com/