Abu Dhabi students are putting their career plans into orbit after teaming up to launch their very own satellite — a team of about 20 students at Khalifa University of Science and Technology have been working since 2015 to design the MYSAT-1, a smallsat set to soar into space this November.
This satellite is the first to be built at the Yahsat Space Lab in Masdar City, a collaboration between the Masdar Institute of Science and Technology, part of Khalifa University of Science and Technology, Northrop Grumman Innovation Systems (formerly Orbital ATK) and Al Yahsat Satellite Communications Company and Orbital ATK. The smallsat weighs 1.3kg and was developed by students enrolled in the Space Systems and Technology Masters in Engineering degree at the university. It is all set for lift-off in November from the Mid-Atlantic Regional Spaceport (MARS), and will serve educational and research purposes.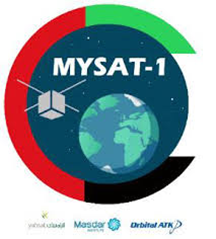 Dr. Prashanth Marpu, associate professor of space system at Khalifa University, said the objective of the satellite is a combination of education and research and that the university is in line with UAE's space mission, producing talent for the space industry. This was the first graduate level program for space education in the region. The goal is to support the space industry here and the students are being trained them from scratch and, when they graduate, they will be ready to get involved in the space programs in the UAE. Dr. Marpu then added that the main thing about this program is that it is a multi-disciplinary program. People from different disciplines are needed to work on space systems and people were recruited from different engineering programs and all were brought together to work on building a satellite.
The objective of the satellite is primarily educational and the professor hopes that in the future students will build satellites weighting 50 or 100 kg. with specific scientific missions. This first satellite is carrying a unique battery that was developed at the lab. Dr. Marpu noted that the battery is developed at Khalifa University. The chemical composition is unique and ensures the battery has high capacity and a long discharge rate. It's behaving very well in the lab conditions but all are waiting to test how it performs in space.
Students who built the satellite visit schools and tell students about their work. School and college students from all over UAE intern at the lab. The 'engineering model' of MYSAT-1, an exact replica of the flight satellite model, was built and tested for space environment conditions. MYSAT-1's payload consists of a camera designed to take images of the UAE from space to demonstrate the process of remote sensing.
The UAE's astronaut program is progressing and nine are now being considered from the more than 4,000 initial applicants. One of the final four will be sent to the International Space Station (ISS)
Article source: The National, written by Anam Rizvi.