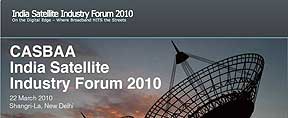 India's leading broadcasting and telecommunications policy officials will speak at the CASBAA India Satellite Industry Forum 2010 at the Shangri-La Hotel in New Delhi on March 22nd.
SatNews has been notified that there is still time for the early bird registration by Friday February 12th for the upcoming CASBAA India Forum to discuss satellite, cable media, advertising and technology sectors and broadband.
The CASBAA India Forum kicks off with a keynote by
Dr.
J.S. Sarma
,
Chairman of the Telecom Regulatory Authority of India
(TRAI), while
Dr.
Ashok Chandra
,
Wireless Advisor to the Ministry of Communications
will deliver introductory remarks for a panel session on the co-existence between new and traditional communications services.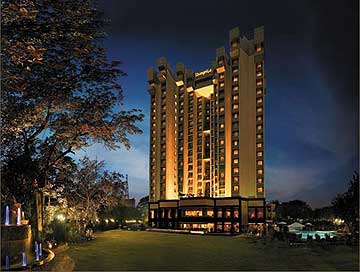 Titled "
On the Digital Edge – Where Broadband HITS the Streets
", the high-powered forum features the Indian leadership of the satellite, broadcasting, broadband, media, advertising and technology sectors. Confirmed speakers also include:
Shyamal Ghosh, Chairman, IPTV Forum India
Ajai Puri, CEO, Bharti Airtel
Salil Kapoor, COO, Dish TV
Sandeep Goyal, Group Chairman, Dentsu India
SN Sharma, President, Digital Entertainment Network
Greg Moyer, President, Scripps Networks
Rajesh Sawhney, President, Reliance BIG Entertainment
Vikram Kaushik, MD & CEO, Tata Sky
C.S. Rao, MD, India & S. Asia & Middle East, WiMAX Program, Intel; Chairman, WiMAX Forum
David Ball, Regional VP, Asia Pacific, Intelsat; Chairman, CASBAA Satellite Industry Committee
Marcel Fenez, Global Leader, Entertainment & Media Practice, Pricewaterhouse Coopers; Chairman, CASBAA
T.R. Dua, Acting DG, Cellular Operators Assoc of India
C.S. Sunder Raju, MD, Atria Convergence Technologies
Deepak Mathur, VP Sales, S. Asia & Middle East, SES World Skies
Tryggve Arveschoug, Head of Product Marketing, Conax AS
Warren Pearsall, Director, Key Accounts, NDS India
Smita Jha, Assoc. Director, Pricewaterhouse Coopers
RR Prasad, Engineer-in-Chief, Doordarshan
Venkat Reddy, Senior Director, Oracle Communications
The CASBAA India Forum is sponsored by
Eutelsat, Intelsat, Oracle, NDS, Scripps Networks and SES World Skies
.
For registration and the full program for the CASBAA India Forum, please

visit .