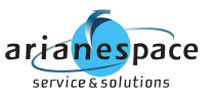 Payload processing for Arianespace's second Ariane 5 mission in support of Europe's Galileo global navigation system has reached full speed, with all four satellites now at the Spaceport.
Liftoff of Arianespace's Ariane 5 with these satellites is targeted for December 12, coming after the heavy-lift workhorse's previous flight at the service of Galileo, which successfully delivered four other spacecraft to medium-Earth circular orbit in November 2016.
The upcoming mission is designated Flight VA240 in Arianespace's launcher family numbering system, denoting the 240th performed with an Ariane-series vehicle from the Spaceport. It also will be the company's 11th and final launch in 2017, closing out a busy year of space lift activity.
As the latest mission carrying Galileo satellites, Flight VA240 is to be conducted on behalf of the European Commission under a contract with the European Space Agency (ESA). Galileo is funded by the European Union, with overall responsibility for management and implementation held by the European Commission. ESA is assigned design and development of the new generation of systems and infrastructure.
Arianespace already has launched a total of 18 Galileo spacecraft, including the four orbited by Ariane 5 in November 2016, plus the others lofted by seven preceding medium-lift Soyuz vehicles that carried two satellites each.