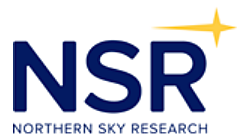 NSR's V-band Satellite Markets report, projects the installed base for key verticals could reach 2.6 million active V-band sites by 2030, generating over $25.8 billion in cumulative revenue.

The market is speculative; however, the opportunity exists such that market players currently vetting V-band's prospects should consider launching programs supporting multiple Tbps of demand. More than 5 Tbps of demand could be generated from 2023 to 2030 alone; this does not include Mobility, Government & Military and other demand segments that can prove to be high revenue generators as well.

"It's not all is rosy, by any stretch of the imagination. There are key issues in this market to address, starting with licensing, landing rights in key country markets, equipment/antenna development, rain fade, establishing a solid track record, and crafting a distribution mechanism," according to Jose Del Rosario, NSR Research Director and report author.
Market success and capture is also contingent on a solid 'go-to-market' strategy and competitive edge that V-band must offer in order to effectively compete with other frequency platforms also targeting the same markets. V-band is just another platform targeting the same key segments and although technical differences exist, technology development can and should equalize if not improve performance metrics with existing solutions.

The good news for V-band players is every GEO-HTS and Non-GEO-HTS operator has to solve the same problems. In a sense, the playing field is generally even and if V-band arrives late, it stands a very good chance of competing head-on with other programs in different frequency platforms. It is also worth noting some proposed LEO-HTS players planning to use Ku- and Ka-band have likewise applied for V-band licenses to augment their networks.
NSR's V-band Satellite Markets is an industry first analysis and forecast of V-band supply and demand across all regions and key applications, including Consumer Broadband, Enterprise VSAT and Backhaul. The study assesses the installed base of sites and subscribers in five different regional markets, investigates trends impacting market growth, forecasts service revenues and predicts satellite capacity demand and revenues for each V-band market vertical and region.