Front Porch Digital has announced that the American Forces Network (AFN) Broadcast Center has implemented the Company's DIVArchive(TM), DIVAnet(TM), and DIVAprotect(TM) systems to support management, retrieval, and long-term preservation of video content.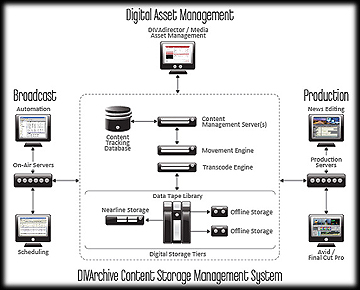 From its Riverside, California, facility,
AFN
provides radio and television programming to approximately 900,000 U.S. service men and women, Department of Defense civilians, and families stationed outside the United States. By means of 12 full-time television channels, AFN offers entertainment and information to personnel located in 177 countries and on Navy ships at sea. At AFN, two
DIVArchive
systems connect a pair of
Isilon IQ
disk-based near online storage clusters to a matching pair of Sony
PetaSite
tape-based archives running
IBM LTO-4
tape drives. The DIVArchive systems include 12 actors with six of the actors transcoding media from one format to another. The DIVAnet system interconnects the two independent archive systems, replicating files from one to the other to enable automatic file recovery in the event of an outage. DIVAprotect continuously monitors tape drives and media, then provides automated analysis of performance so that media failure can be avoided.
Front Porch Digital
in 2008 established a listing on the
Government Services Administration
(
GSA
) contracting schedule through its collaboration with government contracting consultant
FedResults
of Herndon, Virginia. This step makes it easier for government agencies to implement Front Porch Digital's products.
Recently, Front Porch Digital acquired
SAMMA Systems
, which enabled the company to add to its product line the world's first semi-automated systems for the migration and preservation of videotape to digital files. Front Porch Digital's content storage management solutions have been implemented by several government/DOD facilities, including
Voice of America
(VOA) and the
United States Senate
. Front Porch's SAMMA solutions have been deployed at the
Library of Congress
and the N
ational Archives and Records Administration
(NARA).