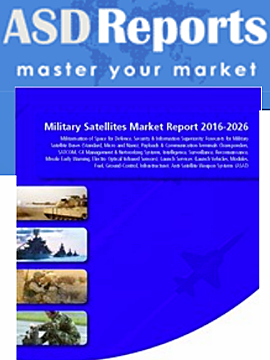 Where is the Military Satellites market heading? This new ASDReports analysis reveals the potential revenues streams to 2026, assessing data, trends, opportunities and business prospects—global revenue for Military Satellites will reach $14.37 billion in 2016.
This 270 page report provides 294 tables, charts, and graphs illustrating the most lucrative areas in the industry and the future market prospects. The new study allows readers to assess forecast sales at overall world market, submarket and regional level. Financial results, interviews, trends, opportunities, and revenue predictions are all presented.
Forecasts from 2016-2026 and other analyses reveal the commercial prospects. In addition to revenue forecasting to 2026, this new study provides you with recent results, growth rates, and market shares. There is original analyses, with business outlooks and developments, as well as qualitative analyses (including SWOT analysis), product knowledge and commercial developments.
Sales predictions for the world market and submarkets are included, along with revenue predictions for the overall world market and revenue forecasts to 2026 for the following submarkets:
Satellite Buses
Payloads & Communications Terminals
Launch Services
Anti-Satellite Weapon Systems
Individual revenue forecasts for 12 leading national markets from 2016-2026 are offered for:
Australia
China
France
Germany
India
Israel
Italy
Russia
Spain
United Kingdom
United States
Rest of World
There will be growth in established Military Satellites markets and in developing countries. The analyses show that the China, in particular, will continue to achieve high revenue growth to 2026. Meanwhile, long-planned satellite modernization programs in the US and France will see them significantly expand their market share. Developments worldwide in Military Satellites technology development will also influence the market.
The report provides detailed profiles of 13 key companies operating within the Military Satellites market: Overall world revenue for Military Satellites will reach $14.37bn in 2016, according to the report's calculations, with steady and increasing revenue growth through to 2026. Identified are which organisations hold the greatest potential...
Airbus Group SE
The Boeing Company
Inmarsat
Israel Aerospace Industries
ISS Reshetnev
Lockheed-Martin Corporation
Mitsubishi Electric Corporation
Orbital ATK Inc.
Raytheon Company
SES S.A.
SpaceX
Thales Group
ViaSat Inc.
A number of discussions are included, including qualitative analyses:
Military Satellite constellation launches and upgrade programmes
Geo-political rivalry in South-East Asia, the Middle East and Eastern Europe
Emerging markets lack Military Satellite Capabilities
Commercial off the shelf (COTS) procurement and rocket launch technological innovation lowering cost of Military Satellites
For additional report information, please access this direct link...