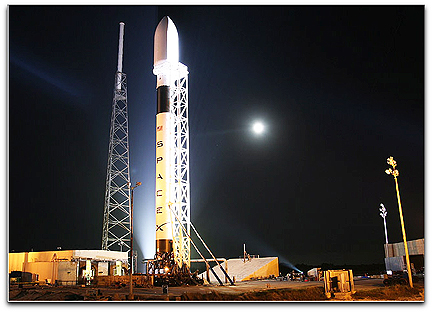 Space Exploration Technologies (SpaceX) and Space Communication Ltd. (Spacecom) of Ramat-Gan Israel, operator of the AMOS satellite fleet, have signed an agreement for launch of a communication satellite aboard a SpaceX Falcon 9 as early as December 2012.
Falcon 9
will insert the satellite into a geosynchronous transfer orbit (GTO), adding to
Spacecom
's existing satellite fleet.
Israel Aerospace Industries Ltd
. (
IAI
) is also involved in the transaction.
Spacecom provides broadcasting and communications services to DBS and DTH operators, as well as a wide range of broadcasters, ISPs, telecommunications operators, government organizations and network integrators with Internet, voice, data and digital TV services. This latest deal supports company plans to launch at least four additional satellites in the coming years to multiple orbital positions. SpaceX's Falcon 9 is a medium-to-heavy lift, two-stage launch vehicle capable of lifting approximately 11 tons to low Earth orbit (LEO) and in excess of 4.5 tons to GTO. Designed to the highest levels of reliability and performance, Falcon 9, along with SpaceX's
Dragon
spacecraft, was selected by
NASA
to resupply the
International Space Station
starting this year.