PLD Space is presenting the company's mission patch for the first recovery project of their reusable liquid booster stage (Liquid Propulsion Stage Recovery, LPSR).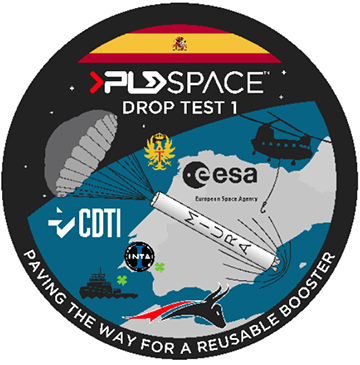 This will be the company's first drop test for the recovery of a complete first stage microlauncher demonstrator. The project — made possible in 2016 — was thanks to the economic support of ESA as part as of the Future Launchers Preparatory Program (FLPP) and will conclude next April with the recovery test of a full-sized demonstrator of the first stage of the MIURA 5 orbital microlauncher.
Assisting in the test campaign is the Battalion of Transport Helicopters V (BHELTRA V), of the Spanish Armed Forces, who is providing a Chinook CH-47 helicopter to carry out the drop of the demonstrator. Additionally, the National Institute of Aerospace Technology (INTA) is allowing the use of the Experimentation Centre "El Arenosillo" (CEDEA) as the launch site, where the test and the follow-ups of the flight and recovery operation will take place.
The project FLPP-LPSR has been financed by the European Space Agency (ESA) with the support of the Centre for the Development of Industrial Technology (CDTI). The final goal of the LPSR project is to recover — for the first time in Europe — the first stage of a liquid propulsion based microlauncher that will be used in a subsequent launch.