Dr. Jake Sauer is Vice President and General Manager of the Tactical Solutions (TS) strategic business unit for Ball Aerospace. In this role, Dr. Sauer is responsible for Ball's portfolio of advanced tactical mission systems and technology for installation on military platforms, enabling warfighters to go forward bravely and return home safely.
Good day, Dr. Sauer... what services and products does your company provide to the commercial and military/agency/government (MAG) market segments and why are they important to these users?
Dr. Jake Sauer (JS)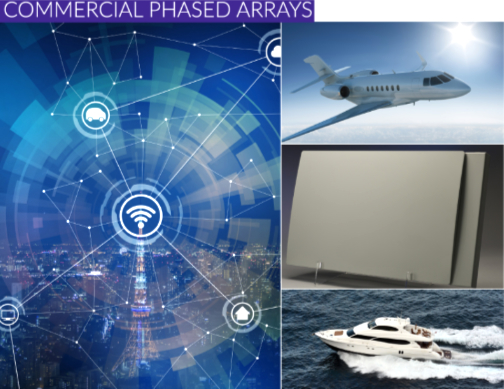 Ball Aerospace is a long-time innovator in developing instruments, spacecraft, tactical hardware, data exploitation solutions and leading-edge technologies for civil, commercial, aerospace and defense applications. I lead Ball's Tactical Solutions business area, which is focused on the development and production of advanced tactical sensor systems to provide increased connectivity and enhanced communications to commercial and government markets, as well as provide mission-enabling communications for the warfighters.At Ball, we are leveraging more than five decades of experience and know-how in phased arrays to innovate new and advanced solutions, including our active electronically scannable phased array antennas, which deliver mission-enabling communications across space, sea, air and land. With no moving parts, Ball phased array antennas can connect with multiple satellites simultaneously and provide long-term reliability with lower maintenance costs. They are also lightweight, have a low profile and are extremely resilient, even in the most challenging environments. We have an exceptionally high stick rate, which means, once installed, our antennas do not need to be removed for repairs.
As an innovator, we are also looking ahead to the next generation of communications systems. As information collection systems become more sophisticated, and user demand increases, the corresponding need for increased bandwidth places a heavy burden on communications links that carry mission-critical data to decision-makers, warfighters and scientists. Ball is building first-of-their-kind phased arrays for SATCOM and 5G marketplaces to support the industry's rapid progress to the new high-speed standard.
Additionally, experts at Ball are using proven technologies and capabilities to supply free-space optical communications (i.e., laser communications) to meet the needs of next-generation systems. Specifically, these innovations bring the same high-bandwidth internet speeds of terrestrial fiber optics to space-based and airborne users. By using laser light to carry data, these communication systems offer a much narrower and more focused beam, compared to traditional RF links. The results are higher data rates, more capacity, greater security, and terminals that are smaller, lighter and more affordable.
Ball always strives to be an end-to-end mission partner. In addition to developing the communications technologies that will help our customers send and receive data faster and more reliably, we are innovating new ways to process that data and get actionable information in the hands of the people who need it, when they need it. Perhaps the best example of these capabilities is our partnership with Microsoft to demonstrate how simultaneous data streams from a large distributed constellation of small satellites can be quickly processed and disseminated using cloud resources and technologies.
Supporting U.S. Air Force's Space and Missile Systems Center's Commercially Augmented Space Inter Networked Operations (CASINO) program, the demonstration is currently focused on the processing of Overhead Persistent Infrared (OPIR) data; however, the underlying architecture is sensor agnostic and can be used to process other planned CASINO missions. A secondary purpose is to explore approaches to provide tactically relevant information to tactical users. This includes activities such as processing capabilities that are hosted on tactical edge hardware, direct downlink to tactical users and direct downlink to the data center.
Why are all these important? It goes back to why we do what we do at Ball, which is to bring connectivity and enhanced communications around the world, as well as provide mission-enabling communications for warfighters. We are leveraging commercial manufacturing practices, such as using highly integrated semiconductor devices and standard circuit card materials, to deliver affordable solutions for government and commercial customers alike.
What do you and/or the company believe are the most significant challenges that need to be addressed within the SATCOM and MILSATCOM environs?
JS
Whether we are talking about commercial customers or those within the government, there will always be pressure to provide the highest quality product at the right price point. Military budgets are often getting squeezed or reallocated, so it is vital to always seek ways to keep costs down without sacrificing performance. Likewise, commercial providers are under constant pressure to offer higher speeds and more reliable connectivity at lower prices.
Another major challenge we see in both the commercial and military space is that of increased connectivity despite increased mobility. People on airplanes, trains or cruise ships want good service, but they don't want to pay a lot for it. Ideally, they want it to be free, just like they get when they walk into a coffee shop. However, as you might have observed on your last airline flight, it is difficult to provide affordable, high-speed, reliable data services to passengers on a train, on a ship miles out at sea, or on an airplane moving at 575 miles per hour. Now, imagine how difficult it is providing data to a fighter pilot flying at twice that speed or to an infantryman in remote areas.
Perhaps the biggest challenge that our warfighters face is that they are operating in increasingly contested environments. Military satellites and communications are under near constant threat from our adversaries who wish to disable, obscure or exploit our communications systems and the data they transmit. On the commercial side, systems are at risk of being attacked by hackers and other criminals attempting to steal consumer data, seek financial gain or simply cause chaos.
Ball works closely with our customers to address these and the many other challenges they face in a constantly changing environment. Our high-quality and affordable phased array antenna systems, as well as our advancements in reliable and security-enhanced laser communications, reflect the commitment to provide meaningful solutions to our customers' toughest problems.
Why should a client consider Ball Aerospace as the preferred solutions provider for products that range from antennas to satellite equipment to RF microwave and more?
JS
I think it starts with our people. Ball Aerospace has been able to establish its heritage of delivering proven, real-world solutions because, at our core, we have some of the brightest minds, yet down-to-earth people I've ever had the pleasure of working with. And, while we are growing, we've been able to maintain a culture that is collaborative, creative and driven to deliver the highest quality every time.
The collaborative nature that exists between our employees extends to the customer. We are true mission partners, working closely with the customer from the initial inkling of an idea, through the development and production of the solution, and continuing through operations and data analysis.
When we harness that culture and that drive, we innovate and find solutions that go beyond customers' expectations. This can be seen in our next generation (Gen 2) phased array user terminals, which feature our innovative subarray architecture. Designed for optimal flexibility and cost efficiency, transmit and receive subarrays can be tiled together to form an antenna that is customized to meet the end user's needs for both commercial and military customers alike.
Because each subarray is identical, they can be mass produced. The customization comes in the number and configuration of the individual tiles. High-volume production of the subarrays will allow us to meet commercial demand and keep costs low for both commercial and government customers.
What may we expect Ball Aerospace to reveal over the next few months?
JS
Expect to see more activity related to our Gen 2 subarrays. We unveiled the concept last year and have won several government contracts to supply our Gen 2 arrays for both Ku- and Ka-band frequencies for aeronautical platforms and Ka-band phased arrays for land vehicles.
We are working to build partnerships across the industry to deliver these products to the commercial market. For example, last year Ball Aerospace signed a Memorandum of Understanding with Carlisle Interconnect Technologies (CIT) to bring this new technology to the commercial aviation marketplace.
In addition to the expansion of the Gen 2 subarrays, Ball Aerospace is also investing in large S-band phased array technology that will enable multiple satellites to simultaneously connect with a single array antenna. We are prototyping this technology with very positive results. The product will ultimately deliver significant performance improvement compared to traditional single-contact parabolic dishes.
Why does experience matter in this industry?
JS
We talk a lot about heritage at Ball Aerospace because it is so important to our core mission and who we are as a company. As we've grown, a top priority has been to maintain our culture, our commitment to quality and our commitment to be a mission partner to our customers.
Part of that heritage is more than six decades of experience developing and manufacturing leading edge technologies and solutions. That level of experience results in solutions that work. In science and technology, we often talk about what is theoretically possible, but not realistically obtainable based on existing capabilities. At Ball, our experience and our people have been able to advance solutions and technologies to come close to what is theoretically possible.
You can't do that without a lot of trial and error. Our experience allows us to design solutions that are high quality and highly efficient, in terms of both performance and cost. This, in turn, allows Ball to do what's most important: create innovate solutions, enable more accurate weather forecasts, drive insightful observations of our planet, deliver actionable data and intelligence, and ensure that those who defend our freedom get home safely.