SPOT, LLC

,

a wholly owned subsidiary of Globalstar, Inc. (NYSE:GSAT), has revealed that their SPOT family of products has surpassed a milestone of initiating 5,000 rescues around the world since its launch in 2007 — these rescues have occurred on six continents and in more than 89 countries.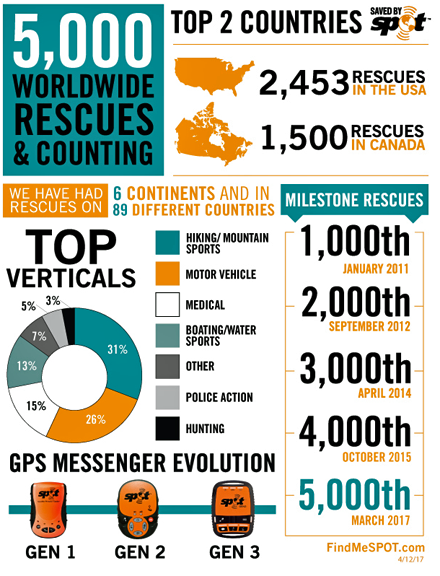 Recent rescue Connor Gallagher was solo hiking in Colorado at an elevation of 11,000' and activated the S.O.S. button on his SPOT Gen3 device when he began to see the early signs of hypothermia.
"Without the SPOT Gen3, I'm not sure if I would be here today and I am extremely thankful for the West Elk Mountain Rescue team that helped me," said Connor Gallagher. "I highly recommend SPOT to anyone who is planning to head out on a long trail. I am forever thankful for the little orange block that saved my life."
Other rescues include a lone worker who pressed his S.O.S. after suffering from a seizure while on a logging job site; a man who was transported to a hospital via helicopter after a skiing accident in Switzerland; and a woman who was in a snowmobile accident in Canada and was airlifted after suffering severe injuries.
SPOT products work virtually everywhere in the world offering peace of mind through satellite-based connectivity to hundreds of thousands of people including hunters, hikers, fishermen, snowmobilers, motorcyclist and many others who enjoy the outdoors and travelling off-the-grid. SPOT users have the ability to track assets, use location-based messaging and get help when beyond cellular coverage.
SPOT customers are currently initiating nearly two rescues a day. SPOT excludes test messages, false alarms, lost or stolen units and duplicate messages from rescue count.
SPOT Gen3® gives you a critical, life-saving line of communication when you travel beyond the boundaries of cell service. The latest generation of award-winning SPOT devices, SPOT GEN3 lets family and friends know you're okay, or if the worst should happen, sends emergency responders your GPS location - all with the push of a button. Features include: custom tracking (2 ½, 5, 10, 30, or 60 minute tracking intervals available), motion-activated tracking, continuous tracking and extended battery life.
SPOT Trace® helps customers keep tabs on their high-value assets like boats, ATV's, off-road bikes and RV's. Users can receive theft-alert SMS texts or emails when movement is detected. Customized tracking intervals and notification features, such as power off and daily status messages are included with Basic Service. SPOT Trace's battery life of up to 18 months and available line power option lets users confidently monitor assets on and off the grid, in near real-time via the SPOT App.

GEOS Search and Rescue is an additional membership offered for as low as $17.95 per year, providing financial relief of possible expenditures occurred during a Search and Rescue incident. The additional membership can cover up to $100,000 of incurred expenses in a given membership year.
Jay Monroe, the chief executive officer of Globalstar, noted that for nearly a decade, the company has been dedicated to offering affordable, lifesaving technology that people can rely on. SPOT has been universally accepted as the leader in satellite messaging and that we have been able to provide peace of mind to families, co-workers and loved ones worldwide. This 5000 rescue milestone is a result of the hard work put in by the entire team at Globalstar, partners at GEOS and the Search and Rescue community.