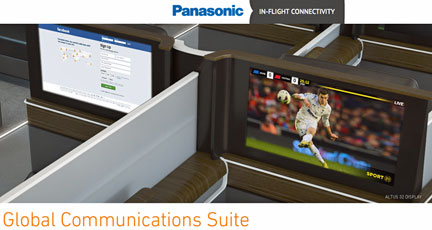 [SatNews] Panasonic Avionics Corporation (Panasonic), a world leader in in-flight entertainment and communications (IFEC) systems, will deliver its industry-leading eX3 in-flight entertainment and communications solution to Air Canada for 37 wide body aircraft.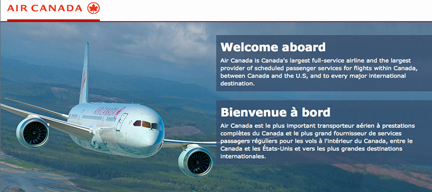 Under terms of the agreement, Panasonic will linefit install eX3 on Air Canada's 37 Boeing 787 Dreamliner aircraft. Deliveries commence with the airline's first 787 aircraft in Spring 2014. Air Canada currently has five Boeing 777-300 aircraft equipped with Panasonic's eX2 system. With eX3, Air Canada's passengers will be able to watch more than 600 hours of entertainment on larger, higher definition screens that are up to 18-inches in business class and enjoy higher definition touch screens at every seat featuring an advanced intuitive interface that will be easy and pleasant to navigate.
Additionally, Aerolineas Argentinas, the national airline of Argentina, will revolutionize air travel for its customers as the first Latin American airline to introduce wireless in-flight entertainment, provided by Panasonic Avionics Corporation (Panasonic) through its eXW wireless in-flight entertainment (IFE) system.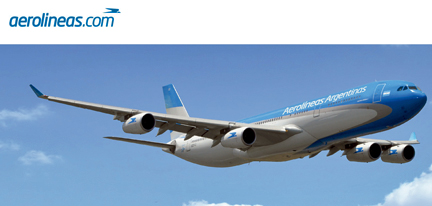 Passengers will be able to connect to content on board the aircraft via their Wi-Fi-enabled laptops, tablets, smartphones or other devices and enjoy movies, music and in-flight service such as ordering meals. The system is being linefit on eight Boeing 737-800s being delivered to Aerolineas Argentinas from later this year. It will be deployed on domestic flights and mid-range destinations such as those in Brazil, Peru and Chile. The eXW-provided portal can be configured to airline requirements, including airline branding and passenger personalization features. eXW systems will be capable of storing a minimum of 40 full-length multi-language movies, 100 short programs; 100 audio CDs; electronic newspapers, digital magazines, and cached web content.
Panasonic Avionics infosite is located at http://www.panasonic.aero/
Air Canada's infosite may be visited at http://www.aircanada.com/
For details regarding Aerolineas Argeninas, please visit http://www.aerolineas.com.ar/