[SatNews] The UK's Department for International Development (DFID) has announced a ground-breaking strategic partnership with the private sector to deliver e-learning programs in Kenya to thousands of marginalized girls.
Project iMlango [3] is a first of its kind e-learning partnership, led by global satellite operator Avanti Communications and its partners: sQuid, the smartcard and digital payments system provider; online maths tutoring provider, Whizz Education; and technology NGO, Camara Education. The integrated program aims to improve learning outcomes for 25,675 marginalized girls, across 195 Kenyan primary schools. Project iMlango uniquely addresses the cultural and financial issues that can lead to reduced school attendance and drop outs[4], with electronic attendance monitoring and conditional payments to families. At the program's core sits an Internet learning platform, accessed via high-speed satellite broadband connectivity, where partners provide students with interactive, individualized learning tools. iMlango is derived from the Swahili word, "mlango," which means doorway or portal.

Project iMlango delivers:
High-speed satellite broadband connectivity to schools
Personalized maths tuition with a virtual online tutor, alongside digital learning content for maths, literacy and life skills
Tuition and support to teachers to use ICT in their teaching
Electronic attendance monitoring with conditional payments—to incentivize families to send their daughters to school – for use with local merchants
In-field capacity in IT, technology and support resources
Real-time project monitoring and measurement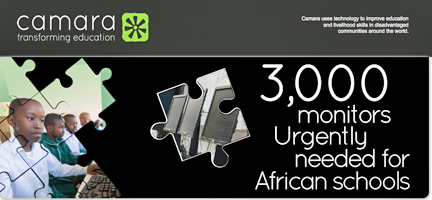 Lynne Featherstone, International Development Minister at DFID, said, "Education is vital to helping improve the life chances of millions of marginalized girls and protecting them from harmful practices like child and forced marriage. Through this private sector partnership, we are able to deliver innovative and cutting edge solutions that mean marginalized girls in Kenya get the education they deserve.

David Williams, Chief Executive at Avanti Communications, said, "Project iMlango is a unique combination of high-speed satellite broadband and e-commerce technology, supported by interactive educational and IT resources. Directly addressing the societal barriers girls face in attending school, the program will impact Kenyan girls and their communities on a huge scale. We believe the program could have significant application across the education sector in Sub-Saharan Africa."

Adam Smith, Chief Executive at sQuid, commented: "We have been preparing the ground for Project iMlango for some time, following the successful deployment of our digital transaction platform in Kenya. Project iMlango builds on our UK education sector services and on our payments capability in Aid environments, and with the program partners we create a true end-to-end service to tackle a really important set of issues relating to girls education."

The program has been designed with the ability to measure and benchmark Project iMlango's impact in real-time. Data includes daily attendance statistics at the whole school level for over 100,000 children[5], as well as measurement of access to the learning platform and charting each student's individual progress over time.
1 Girls who remain in education are less likely to marry as children.
2 One million children in Kenya regularly do not attend school; 2012/13 UNESCO Global Monitoring Report (GMR)
3 iMlango, derived from the Swahili word, 'mlango' which means doorway or portal.
4 Families play a critical role in girls both accessing and remaining in education.
5 Calculations based on attendance of 500-600 pupils at 195 schools.
The following infosites contain additional information: http://www.avantiplc.com/, http://www.squidcard.com/, http://www.whizz.com/, and http://www.camara.org/