Blue Origin, the U.S. aerospace company started by Amazon founder Jeff Bezos, launched their same suborbital rocket and then successfully landed the craft, vertically, for a fourth time.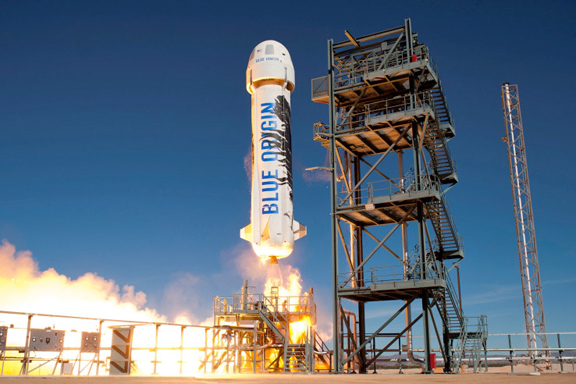 The New Shepard rocket lifted off from the company's test site in western Texas at 10:36 a.m EDT (1436 GMT) on June 19, reaching its planned altitude of 331,501 feet (101 kilometers), just past the internationally-recognized boundary of space. Just prior to reaching the peak altitude, the capsule separated from the rocket and both eventually executed what the hosts of Blue Origin launch webcast called "picture-perfect" landings.
Bezos tweeted, "Careful engineering plus of course... the lucky boots. Successful mission," along with a photo that showed his cowboy-boot clad feet resting on a desk.
The New Shepard system has made three previous successful landings—in November 2015, and in January and April of this year, but this was the first time the test was broadcast, live, on the Internet. On this flight, Blue Origin intentionally failed one of the three parachutes for the capsule to see whether it could still land safely, an important test given the company's hopes to carry tourists into space and back again in the near future.
Blue Origin's rival space firm, SpaceX, completed similar rocket recovery tests recently, landing their rocket on the ground or onto an ocean based platform from LEO, which was is believed to be a more technically difficult accomplishment.