[SatNews] Here's looking at you...Lockheed Martin Commercial Launch Services, [NYSE: LMT], announced today that it has been selected by GeoEye, Inc. (NASDAQ: GEOY) to launch the company's next-generation, high-resolution Earth-imaging satellite, GeoEye-2, on an Atlas V rocket.
Financial terms are not being disclosed at this time. Lockheed Martin Commercial Launch Services is a wholly-owned subsidiary of the Lockheed Martin Corporation.
Jack Zivic
,
general manager of Lockheed Martin Commercial Launch Services
, said, "
We appreciate GeoEye's recognition of the overall value of the Atlas launch services solution. Our commitment to the accuracy and timeliness of the delivery and our dedication to the criticality of the mission match the needs and expectations of GeoEye and its customers."
The
4,600-pound GeoEye-2 satellite will be ready for launch in late 2012 and will be operational in early 2013
. It will be launched into a sun-synchronous orbit from Vandenberg Air Force Base, Calif. "The Atlas offers significant lift capability to this type of orbit," said Zivic. "We are currently soliciting interest from other satellite operators who need to place their satellites in a similar orbit."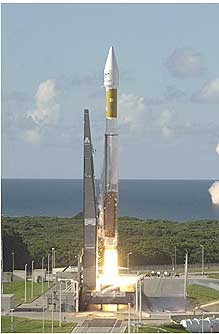 GeoEye, a key provider of satellite imagery and geospatial information, announced last month winning a 10-year, $3.8-billion contract award from the National Geospatial-Intelligence Agency (NGA) for increased commercial satellite-imaging capacity.
The competitively awarded contract supports the
NGA's EnhancedView program, which provides products and services that help meet the increasing geospatial needs of the intelligence community and the Department of Defense.
In March 2010, GeoEye selected Lockheed Martin to build the GeoEye-2 spacecraft.
When operational, it will be the world's highest resolution and most accurate commercial Earth-imaging satellite.
Bill Schuster
,
GeoEye's chief operating officer
, commented, "
We chose Lockheed Martin to build and now launch GeoEye-2 because of its 50-year heritage in designing, manufacturing and launching payloads into the perfect orbit.
"
Lockheed Martin Space Systems Company designed, built and
launched the world's first commercial, high-resolution, Earth-imaging satellite, IKONOS, which has been providing 0.82-meter ground resolution imagery to GeoEye's customers around the globe for more than a decade.