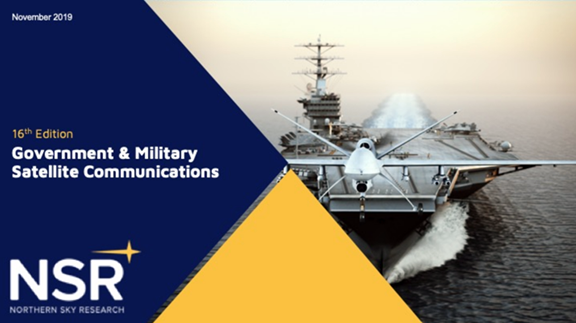 NSR's newly released Government and Military Satellite Communications, 16th Edition (GMSC16) report finds another year of growth for commercial satellite connectivity.
As HTS-based services start to really take-off in the market, retail revenues are up $600M from 2017, to over $5.6 billion. Driven by strong growth for Aeronautical Platforms (both Manned and Unmanned), the market remains poised to double over the next ten years. Just as Gov & Mil End-users are planning updates to their own MILSATCOM networks, the opportunities for commercial players remain robust.

Government and Military end-users in 2018 consumed 30 Gbps of commercial satellite capacity. By 2028, that figure is expected to increase to over 480 Gbps. Of that, Bulk leasing for transponded capacity accounts for almost 40% by 2028. Meanwhile, Managed services continue to drive revenue growth enabling a host of new and emerging operations over the next ten years.
Report author and Principal Analyst Brad Grady said that just as is being seen in the commercial mobility SATCOM markets, HTS is fueling the growth in satellite connectivity services across all aspects of Government and Military operations. Even as the debate between MILSATCOM and COMSATCOM approaches a fever pitch, commercially-sourced services will remain — terminals are the key ingredient; however, new software-defined networking concepts, HTS ubiquity and commercial innovation in the ground segment bring rapid changes to the Government and Military markets.
Brady continued that even as the RF domain becomes more congested and contended, beam forming satellites, multi-orbit network designs, and robust waveforms are all maturing to create a robust commercial market for Gov & Mil customers. As more capacity continues to enter the market across all spectrum bands, Ku/Ka/X/L – prices for connectivity continue to drop on a per-Mbps basis – accelerating uptake.