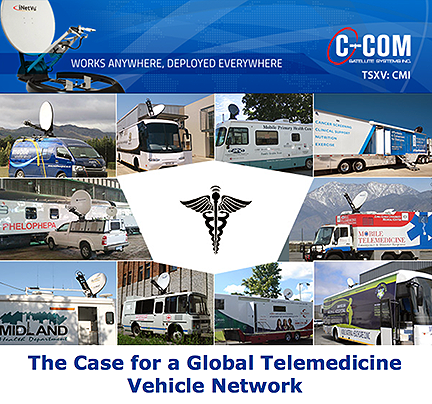 C-COM Satellite Systems has released a new white paper authored by Drew Klein, the company's Director of International Business Development, entitled The Case for a Global Telemedicine Vehicle Network. This is a call to Doctors, Government Health Workers, Hospitals, Universities, Vehicle/Coach builders, Satellite Operators, Satellite Service Providers, System Integrators, and all who are involved in the Telemedicine space.
Nearly 50 percent of the world's population has no access to basic health services. The vast majority of this population live outside cities, in peri-urban areas, where few hospitals exist. Geographical areas with limited to no healthcare accessibility regions are called 'medical deserts', and they continue to expand as people move out of rural regions and into cities.
Medical deserts can be found in both developed and developing countries alike. In the United States, approximately 30 million people live more than 30 miles from a hospital that provides emergency care. In Niger, more than 60 percent of the population (10 million people) live further than a one hour walk to a basic healthcare center. While Africa is urbanizing, approximately 63 percent of the total Sub-Saharan population still live in rural areas. Even France, often lauded as a prized model for national healthcare, has struggled with a steady decline in rural doctors, notably general practitioners.
Both the CDC and the NIH have confirmed that a direct correlation exists between distance to hospitals and an increased risk of preventable deaths. In India, for example, it was estimated that 50,000 deaths (out of 72,000) from sudden abdominal conditions in 2010 could have been averted with better medical access. Those who lived more than 100 km. from a hospital were at the highest risk.
A 2016 study showed that only one in eight high income countries had developed a national policy on hospitals in rural or remote areas. Rural healthcare facilities have historically been a poor investment and their sustainability is concerning. Even in the U.S., 83 rural hospitals have closed since 2010 with another 673 vulnerable to shut down. The problem isn't likely to improve so long as the cost of building hospitals in rural areas remains prohibitive.
According to one Harvard study, for every $1 spent on mobile healthcare, there is a return of $36 to the healthcare budget. Mobile surgical vehicles, mobile MRI/CAT/Mammography/Ultrasound clinics, mobile maternity, mobile primary health care (Medical/Dental/Vision), and many other types of telemedicine vehicles can be strategically circulated throughout the world's medical deserts, bringing healthcare to billions of people.
And while healthcare costs vary dramatically from country to country, a sad reality is that it will never be economically feasible to build hospitals or health care facilities in all the world's medical deserts. Providing mobile clinics to people who live in hospital deserts is both cost effective and efficient.
This white paper recommends the identification of the world's medical deserts and to create a Global Telemedicine Vehicle Network — build and deploy 216,000 telemedicine vehicles for the delivery of basic and specific health services to rural and peri-urban populations.
Select this direct link to download this informative report that focuses on a global vehicle network solution for telemedicine...