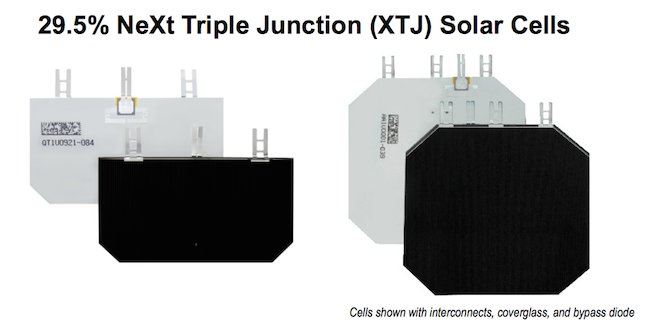 New and improved is a meaningful statement as Boeing's [NYSE: BA] subsidiary Spectrolab produces a higher-efficiency space solar cell that offers more opportunities in aerospace for the development of lighter and less expensive spacecraft.
The new solar cell, known as XTJ Prime, is rated at 30.7 percent energy efficiency, that is higher than other models currently available. The announcement came during a celebration of Spectrolab's 60th anniversary. Solar cell efficiency refers to how much sunlight a cell can convert into usable energy. First delivery of the higher efficiency XTJ Prime cells is expected later this year.
Tony Mueller, president of Spectrolab stated, "As space has become more accessible to private companies and countries, competition to provide the highest-powered spacecraft at the lowest cost has intensified. The increased efficiency of the XTJ Prime solar cell drives a lower-dollar-per-watt solution, meaning spacecraft using this new cell will be lighter and less expensive to build and launch, and more powerful once in space."
Spectrolab, provider of space solar cells and solar panels, provides products to the commercial satellite industry, the US Department of Defense, NASA, and domestic and global aerospace companies. Earlier this year, Spectrolab's space solar cells helped set a new record as NASA's interplanetary probe, Juno, traveled farther from the sun than any other solar-powered spacecraft, reaching more than 517 million miles on its way to Jupiter.
In addition to Spectrolab's 60th anniversary, Boeing is celebrating 100 years of pioneering aviation accomplishments.
http://www.spectrolab.com/DataSheets/cells/PV%20XTJ%20Cell%205-20-10.pdf