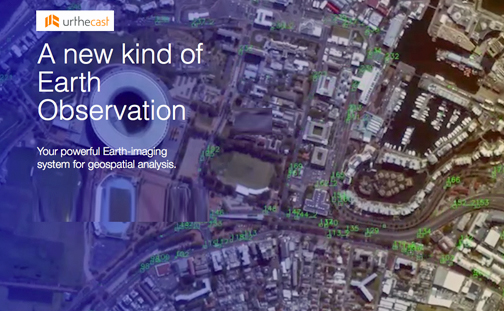 An area of Earth Observation (EO) that is rapidly increasing in demand is for in-season, precision agriculture services.
To help satiate the interest in this arena, UrtheCast Corp. (TSX:UR) has signed a strategic partnership with OmniEarth, Inc. ("OmniEarth") in support of UrtheCast's planned UrtheDaily Constellation, which is expected to be capable of imaging 140 million square kilometers of the global landmass every day at five meters GSD. The UrtheCast-OmniEarth partnership includes collaborative system development, the sharing of intellectual property, and joint customer marketing activities.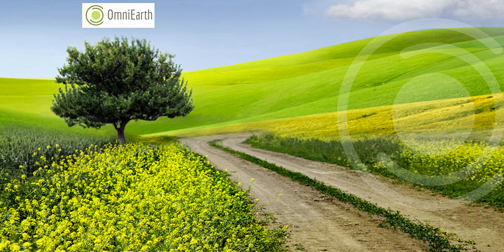 Daily revisit, combined with UrtheCast's scalable data distribution capabilities enabled by the firm's cloud-based UrthePlatform, are anticipated to enable growers to proactively measure and manage crop health and identify pest infestation early enough to prevent major losses. Other domains that will benefit from daily coverage of the global landmass include asset monitoring, environmental monitoring, change detection for intelligence applications, and a host of financial prediction applications in areas such as retail and freight monitoring.
UrtheCast (and their subsidiary, Deimos Imaging) will be exhibiting and meeting customers at the InfoAg Conference in St. Louis, Missouri, from August 2nd through 4th, 2016. Company representatives will be sharing further details on the planned capabilities of UrtheDaily for agriculture, as well as the immediate opportunities available with UrtheCast's current sensor suite, including the Deimos-1 satellite.
Dr. Lars Dyrud, OmniEarth's CEO, clearly indicated that his OmniEarth team has long recognized the value of daily revisit and they are looking forward to working with UrtheCast to help develop UrtheDaily. This will be a mission designed from the ground-up to produce analytics-ready, scientific quality data required to fully realize the potential for many large geoanalytics markets—particularly for digital agriculture. He added taht UrtheDaily will bring machine learning and automated geoanalytics to whole new markets—and will do so at a scale never before achieved."
According to UrtheCast's President and Chief Executive Officer, Wade Larson, this agreement is a significant endorsement of the UrtheDaily solution from a company that is a technology leader in geoanalytics as well as a major step forward for within the commercial realms to bring to fruition the firm's UrtheDaily plans.
---
A Concentration of Smallsat Industry Expertise
SmallSat Symposium
February 6 through 8, 2017
Computer History Museum, Mountain View, California
Within the smallsat community, those who hesitate in preparing for and planning their next business moves within this dynamic environment could well be "left behind."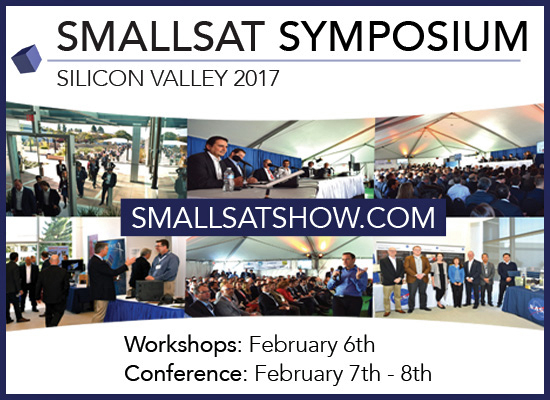 To assist in acquiring the knowledge and expertise to enter and/or continue the acquisition of technology and product to become a successful smallsat actor,
Satnews Publishers
is delighted to announce that the
SmallSat Symposium
workshops will be held on
February 6
and the conference will be conducted from
February 7 to February 8, 2017
, at the
Computer History Museum
, which is located at 1401 North Shoreline Boulevard in Mountain View, California.
A veritable "Who's Who" of subject-matter experts have already committed to presentations during this impact-filled symposium:

Accepted Speakers To Date
• Chad Anderson, Managing Director—Space Angels Network
• Eric Anderson, President—And One Technologies
• Jason Andrews, CEO—Spaceflight Industries
• David A. Anhalt, Vice President and General Manager—Iridium PRIME
• Jenny Barna, Launch Manager—Spire Global, Inc
• Chris Baugh, President—NSR - Northern Sky Research
• Chris Boshuizen, Principle—Data Collective VC
• Peter Beck, CEO & CTO—Rocket Lab
• Dr, Sami BenAmor, Director of Marketing—Thales Alenia Space
• John Booher, Partner—Hogan Lovells
• Phil Carrai, President—Kratos Technology and Training Division
• Dr. Sean Casey, Managing Director—Silicon Valley Space Center
• Carissa Christensen, Managing Partner—The Tauri Group
• Craig Clark, Founder—Clyde Space Ltd.
• Mike Collett, Founder and Managing Partner—Promus Ventures
• James Crawford, Founder and CEO—Orbital Insight
• Randy Culver, CEO—AMERGINT Technologies
• Erik Daehler, Director Product Innovation Network & Space Systems—Boeing Network and Space Systems
• Stuart Daughtridge, Senior VP Advanced Technology—Kratos
• Tahara Dawkins, Director, Commercial Remote Sensing Regulatory Affairs Office—NOAA
• Chris DeMay, Founder and COO—HawkEye 360
• Dr. Lars Dyrud, CEO—OmniEarth
• Dr. Shahin Farshchi, Partner—Lux Capital
• Dr. Jenny Gautier, Director of Commercial Programs—The Aerospace Corporation
• Dr. Alex Saltman, Senior Vice President—GeoOptics Inc.
• David Hartshorn, Secretary General—GVF - Global VSAT Forum
• Yvon Henri, Chief, Space Services Department—ITU
• Jonathan Hofeller, Vice President of Commercial Sales—SpaceX
• Susan J. Irwin, President—Irwin Communications, Inc.
• John P. Janka, Partner—Latham & Watkins LLP
• Adam Keith, Managing Director—Euroconsult Canada
• Andrew M. Kwas, Engineering and Technology Strategist—Northrop Grumman Corp.
• Wallis Laughrey, Vice President, Space Systems—Raytheon
• Debra Facktor Lepore, VP and GM of Strategic Operations—Ball Aerospace & Technologies Corp
• Chris Lewicki, President and CEO—Planetary Resources, Inc.
• Daniel Lim, President & CEO—Xtenti, LLC
• Tony Lin, Counsel, Washington, DC—Hogan Lovells
• Dr. Clare Martin, Vice President of Programs—Surrey Satellite Technology US
• Attila Matas, Head of the Space Publications and Registration Division—ITU
• Clayton Mowry, President—Arianespace
• Sunil Nagaraj, Vice President of Marketing and Communications—Bessemer Venture Partners
• Ryo Nakamura, Director, Business Development Department—Mitsubishi Heavy Industries
• Carlos Niederstrasser, Business Development & Special Initiatives—Orbital ATK
• Steve Oldham, Vice President, Strategic Business Development—Space Systems Loral (SSL)
• Dara A. Panahy, Partner—Milbank, Tweed, Hadley & McCloy
• Andrew Petro, Program Executive for Solar Electric Propulsion and Small Spacecraft Technology—NASA
• Christopher Richins, Cofounder & CEO—RBC Signals
• Will Pomerantz, Vice President for Special Projects—Virgin Galactic
• Randy S. Segal, Partner, Co-Lead Satellite Practice—Hogan Lovells
• John Stack, Managing Director, Aerospace Leader—The McLean Group Advisory Team
• Leon Stepan, Lead Mission Operations Analyst—Planet Labs
• David Strobel, CEO and Program Manager (PM)—Space Micro
• Chris Stott, Chairman & CEO (PM)—ManSat
• Tom Stroup, President—SIA - Satellite Industry Association
• Professor Sir Martin Sweeting, Founder and Executive Chairman—SSTL
• Stig-Are Thrana, U.S. Sales Director and Head of Kongsberg Silicon Valley Office—Kongsberg Satellite Services
• Dr. Joe Thurgood, Vice President Corporate Development and Marketing—Hera Systems
• Dr. Marco Villa, President & COO—Tyvak Nano-Satellite Systems
• Tony Wilkey, Senior Vice President—AvL Technologies
• Bruce Yost, Project Manager—NASA Ames Research Center
• Louis Zacharilla, Director of Development—SSPI
=> Here's some particularly good news for interested parties — the first 100 registrants will qualify for a $200 discount on the standard event admission... take advantage of this offer... don't dawdle... and register now at this direct link.