Paradigm's flat panel Swarm45 terminal has been approved for Inmarsat Global Xpress, adding worldwide coverage on Inmarsat Global Xpress (GX) to its features. Inmarsat recently granted Type Approval for the Swarm45 terminal as it enhances portability and ease-of-use of the GX service by offering fast setup and pointing—it is the first GX terminal that can be packed as carry-on baggage onboard commercial aircrafts.
Global Xpress is in use on multiple platforms and missions today and complements military satellite communications and delivers a highly reliable commercial Ka-band network that meets mobile, on-demand communication needs worldwide. During successful demonstrations in multiple user scenarios, US government end-users were connected in under five minutes, anywhere in the world without requiring specific region configurations or set up procedures.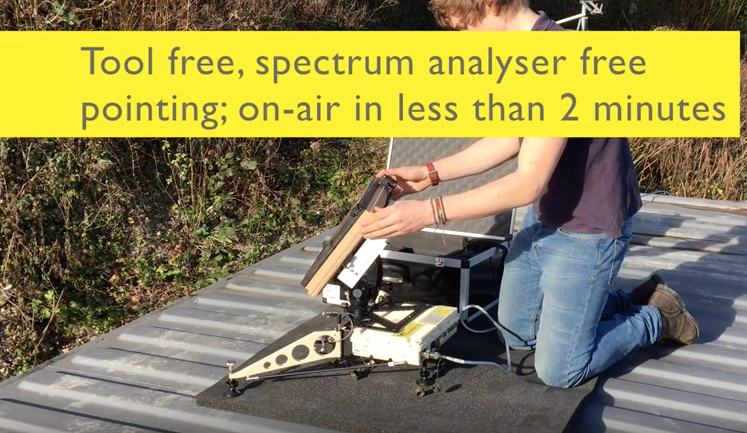 The lightweight Swarm45 delivers high data rates for its antenna size. It is designed around the PIM (Paradigm Interface Module) which has an integrated modem and innovative audio and visual pointing aids. The pointing process has been developed by Paradigm to ensure quick deployment by users with minimal training. It provides a straightforward method of acquiring any one of the GX satellites without the extra bulk of motors and controllers as part of the hardware.
The Swarm45 has quickly been adopted by the international military and government community for mobile and fast communication, but is equally suited to the disaster recovery, NGO and broadcast sectors.
"It's exciting to see the reaction of our customers when they realize how quickly and easily they can be on air with the Swarm45," said Ulf Sandberg, Managing Director at Paradigm. "Now with its full Inmarsat type approval on Global Xpress this can be replicated all over the world and with a terminal which can be carried as hand luggage when flying."
Steve Gizinski, Vice President, Special Programs, US Government Business Unit, Inmarsat, Inc. added, "The Swarm45 is a Global Xpress terminal that supports BGAN-style ease of use in an airline carry-on form factor. It aligns extremely well with government users' demand for flexible and reliable global service."
http://paracomm.co.uk/swarm45-2/