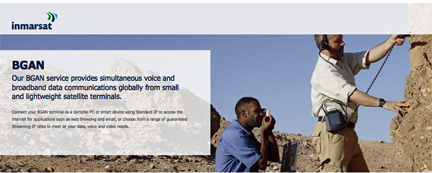 [Satnews] Inmarsat (LSE:ISAT.L) has demonstrated the company's ongoing commitment to support government communications needs worldwide by providing essential capability for both real-time crisis as well as emergency response preparedness and training in the recent Pacific Endeavor exercise.
The event was co-hosted by U.S. Pacific Command (USPACOM) and the Armed Forces of The Philippines (AFP) J6 and took place in Manila, Philippines, between August 31 and September 11, 2015. Military representatives from 21 Pacific nations also took part in SatCom Endeavor, a part of Exercise Pacific Capstone event, to jointly train and learn about the latest satellite communications capabilities. This type of exercise is critical to the success and preparation for the next humanitarian aid disaster response (HA/DR) situation. As part of this training, Inmarsat executives provided an overview of the company's Broadband Global Area Network (BGAN) and Global Satellite Phone Service (GSPS). These services deliver a valuable 'First In' SATCOM capability, to first responders entering a disaster area based on its voice quality, small size, global coverage and ease of use.
Underscoring its commitment to meeting and serving the mission-critical communications needs of the first responder community, Inmarsat also offers Global Xpress to deliver end-to-end, seamless, 'SATCOM as a Service' capability. Supported by the only commercial worldwide Ka-band constellation built for mobility, it provides high-throughput communications solutions to government users that can take advantage of its ease-of-use, portability and reliability.
Inmarsat's portfolio of reliable, managed satellite communications services help overcome the hazards of both natural and man-made catastrophes. The company offers both voice and data access so responders can assess damage, rescue victims and call for support. They acquire instant phone, broadband and wideband services in critically-hit areas – regions where other communications options have failed—using equipment that is as easy to use as a standard cell phone, and often small and light enough to store in a backpack.
"Communications people are generally some of the first people on the ground," said Corporal Rochelle Rowe, a Royal New Zealand Air Force communications specialist, and a SatCom Endeavor participant. "If you can get communications up, even with a small 300k link, that's still something, and getting internet access is really important to access the rest of the world, to call for help."
When a disaster strikes, many times the location's basic infrastructure is destroyed. The cell towers, the Internet providers and the backbone of communication infrastructure are gone. Setting up communication quickly after a disaster is vital to saving lives. Hands on training with mobile broadband equipment give these partners a chance to practice and work out any issues.
"Having a system such as the BGAN is important because you can set it up in five minutes," said Cpl. Rowe."Even though it's a simple piece of equipment, it's quite good to get hands on so when you are in a HA/DR situation, and someone hands you a BGAN, you're not like, how do I use this thing."
"The BGAN gives five or six people that first-in capability to tell their higher headquarters what the ground truth is, so that that higher headquarters can plan and ensure that the right help is going to the right people, at the right time, and the right place," said Major Erika Teichert, a Marine Corps officer from the Naval Post Graduate School.
Strengthening relationships and interoperability is the main focus of exercise Pacific Endeavor 2015. SatCom Endeavor in particular, provided the partner nations the ability to build strong relationships in addition to strong networks. These relationships will be vital when the next HADR crisis comes.
"It was good, just interacting with different people from the Asia Pacific Region, and who knows, I might come across someone again," said Cpl. Rowe.
Exercise Pacific Endeavor 2015 , after its official start on August 31, is comprised of multiple training modules aimed to keep participants ahead of cyber, satellite, and radio technological advances, in case of a disaster. Representatives from the Multinational Communications Interoperability Program (MCIP) are co-hosting the exercise with the Armed Forces of the Philippines (AFP) to help improve interoperability of communications technologies between partner-nations in the pacific region.
Executive Comment

"Global Xpress ensures that first responders have the needed high-speed wideband connectivity throughout any disaster relief effort, making Inmarsat the 'First In, Last Out' SATCOM capability of choice," said Lizzie Greenwood, Inmarsat's Business Development Director Asia Pacific, Global Government.

"Inmarsat has a proven track record with more than 35 years of experience in delivering mobile satellite communications capabilities to first responders," said Kai Tang, Inmarsat's Vice President of Market Development, U.S. Government. "Our customers often have less than 72 hours of notice before moving into an unknown geographic location under very challenging conditions. BGAN is the established 'capability of choice' because of its portability and global mobility. As the HA/DR mission expands and connectivity needs increase, they now have Global Xpress to deliver the demanded high-throughput connectivity with the same benefits of smaller size, ease of use and worldwide mobility."
Story is courtesy of Inmarsat and Tech. Sgt. Todd Kabalan,
Defense Media Activity – Hawaii News Bureau, U.S. Air Force.