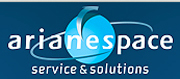 Designated Flight VA232 in the Arianespace launcher family numbering system, the Ariane 5 mission for Intelsat 33e and Intelsat 36 will be conducted from the Space in French Guiana's ELA-3 launch zone.
One of two Intelsat satellites has already been delivered to the Spaceport, advancing pre-launch activities for this August 24th heavy-lift flight to the payload preparation phase. Intelsat 33e "touched down" in French Guiana last week, arriving at the Félix Eboué Airport near Cayenne aboard a chartered Antonov An-124 cargo jetliner. After unloading, the spacecraft was transferred by road to the Spaceport, where it was moved into the S5 payload processing facility for the start of pre-flight checkout.
The satellite was produced by Boeing Space Systems. Once in orbit, this satellite will extend Intelsat's high-throughput capacity in both C- and Ku-band from the Americas to include Europe, the Middle East, Africa, Asia Pacific, the Mediterranean and Indian Ocean regions. In addition, Intelsat 33e will deliver enterprise-grade, broadband services to aeronautical and maritime mobility service providers and users.
As the second spacecraft of the next-generation Intelsat EpicNG series, Intelsat 33e integrates one of the most advanced commercially-available digital payloads in the world. With a liftoff mass estimated at 6,575 kg, this satellite will operate from an orbital position of 60 degrees East.
Joining Intelsat 33e on the dual-passenger August 24 flight is another satellite for Intelsat, Intelsat 36, which was built by SSL and will enhance the international operator's premier DTH neighborhood in Africa. This spacecraft's liftoff mass is estimated at 3,250 kg and will operate from a 68.5 degrees East orbital slot.
The first Intelsat EpicNG satellite, Intelsat 29e, was successfully delivered to geostationary transfer orbit on an Ariane 5 mission that occurred last January.