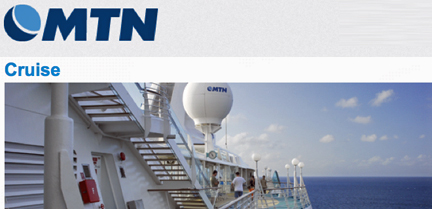 [SatNews] MTN Communications (MTN) has announced a renewal and extension of Silversea Cruises, Ltd. (Silversea) long-term relationship—Silversea chose to increase the breadth of communications services MTN will provide its eight-ship fleet, including its latest ships, Silver Discoverer and Silver Galapagos.
This relationship includes a substantial increase in broadband connectivity to its ships. MTN also worked with Silversea to optimize the Wi-Fi design on each vessel with the latest technology to further enable Silversea support of video streaming and other guest services. These upgrades support expanded broadcast, data and voice services on the Silversea fleet, further catering to today's Bring-Your-Own-Device (BYOD) passengers and crew.

"Silversea has been an MTN customer for nine years and is recognized as the world's top ultra-luxury cruise line," said Jason Cohn, director of global IT infrastructure, Silversea. "Committed to the highest standards of excellence, our itineraries cover all corners of the globe, so it is critical to deliver reliable communications and content everywhere at a level akin to a land-based resort. We are especially excited about the range of communications services on our two latest ships. Cruising these rarely-visited locales not only requires mission-critical connectivity, but a unique opportunity to show friends and family the highlights along such extraordinary journeys."
Silversea's enhanced connectivity infrastructure is enabling existing and new MTN communications offerings. These range from enhanced Internet access to calling solutions to new broadcast capabilities.
"We want Silversea passengers to have the most luxurious cruise experience available," said Brent Horwitz, senior vice president and general manager, cruise services, MTN. "Part of that has been the ease, convenience and choice associated with communications services from MTN. Like Silversea, MTN delivers a quality and reliable service. With customers anticipating the skyrocketing demand for land-like communications on passengers' and crews' own devices, MTN takes great pride in enabling new applications and myriad entertainment options, as well as business-critical tools, for the Silversea fleet."
MTN operates a worldwide connectivity footprint and content suite through its hybrid satellite and broadband terrestrial network across the globe. The pioneer in broadband maritime communications, MTN prides itself on the innovation and value that it delivers to cruise industry partners.
The MTN Communications infosite is located at http://www.mtnsat.com/
For information regarding Silversea Cruises, that infosite may be accessed at http://www.silversea.com/