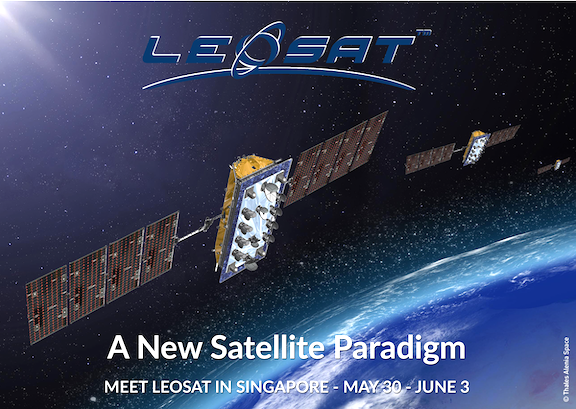 Meet LeoSat at CommunicAsia, May 30th - June 3rd, to learn about their unique satellite data network and how it can transform your business.
LeoSat Enterprises, a new satellite constellation venture, will present their enterprise data network at CommunicAsia. Learn how a single-hop global Gbps connectivity can transform your business:
The Most Advanced Commercial Satellite System
Combining the Speed of Fiber with the Ubiquity of Satellite
Premise to Premise Connectivity with No Terrestrial Touch Point
Global Reach
End-to-End Network Security
Ultra Low Latency
Using optical inter-satellite links and operating in polar orbits five-times closer to Earth than MEO and 25 times closer than GEO satellites, LeoSat has many advantages for throughput, latency and true global coverage.
The unique data network solution offers high performance over any existing or planned system, including fiber.
Mark Rigolle, CEO, LeoSat Enterprises will be available at CommunicAsia.
Rigor will be presenting at:
The Casbaa Satellite Industry Forum
May 30th, 10:05am, Pan Pacific Hotel
Mark Rigolle, CEO, LeoSat Enterprises
"Is the NGSO Revolution Coming?"
Also
CommunicAsia Conference
May 31st , 3:50pm, Marina Bay Sands, Level 3, Heliconia 3405
Mark Rigolle, CEO, LeoSat Enterprises
GEO/LEO HTS Showcase: "Opportunities, Deployments, Investments and Application Across This New Space"