Inmarsat (LSE:ISAT.L) and Cobham SATCOM have announced that their partner, Beijing Marine Communication & Navigation Company Ltd. (MCN), has won the largest Inmarsat Fleet Xpress installation project to date with Nanjing Tanker Corporation of China.

Just two weeks after the launch of Inmarsat's Fleet Xpress service, the agreement brings always-on, next generation high-speed broadband capability worldwide to 70 ships; delivering 'smart shipping' connectivity to drive performance optimization and a step change in crew communications and welfare for Nanjing Tanker Corporation (NTC) vessels.

Cobham and Inmarsat partner Beijing Marine Communication & Navigation Company Ltd. (MCN) will manage the roll-out of Cobham's SAILOR 100 GX and SAILOR 60 GX antenna systems to NTC.
The selection of SAILOR 60 GX and SAILOR 100 GX supports high reliability and availability of Fleet Xpress communication services for crew, ensuring their ability to contact friends and family, use social media or browse their favorite websites and forums. With demand for crew voice and data services continuously growing, the field-proven reliability of SAILOR SATCOM antennas helps vessel owners and operators to get the most from Fleet Xpress, contributing significantly to crew recruitment and retention strategies.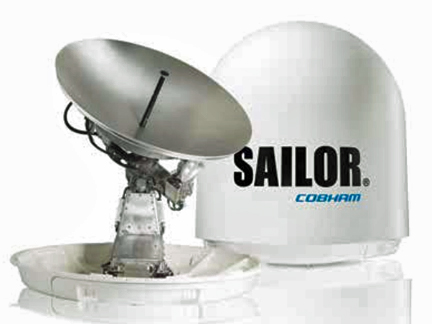 The 1 meter SAILOR 100 GX is based on Cobham SATCOM's SAILOR VSAT Technology platform, designed to simplify installation and operation while delivering class leading radio performance through unmatched link stability and service reliability. The 60cm SAILOR 60 GX leverages an entirely new compact, lightweight carbon fibre composites/aluminum design.
By enabling a high-throughput link to Fleet Xpress in a smaller antenna package, SAILOR 60 GX introduces smart shipping applications to smaller platforms, including workboats, fishing vessels and yachts. In March 2016, SAILOR 60 GX won the Mobile Satellite Users Association's (MSUA) 2016 Top Maritime Mobility Satcom Innovation award, highlighting it as one of the most innovative maritime VSAT systems available today.