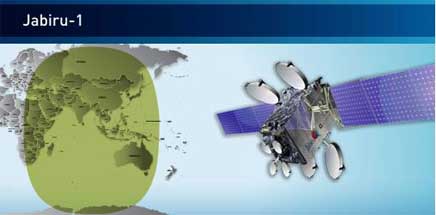 [SatNews] Back-to back announcements in Satnews, this Company is on a streak...
NewSat Limited (ASX: NWT; OTC: NWTLY), Australia's satellite company, announces today the signing of an agreement with Arianespace for the launch of Jabiru-1 in the second half of 2014.
Jabiru-1 will provide high-powered Ka-band satellite coverage across growth regions over the Middle East, Africa and Asia.
The large Jabiru-1 spacecraft, manufactured by Lockheed Martin Space Systems, utilises the A2100 series spacecraft and is designed for an in-orbit life of 15 years.
Jabiru-1
will provide greater than 7 GHz of Ka-band capacity and features significant flexibility in allocating the capacity among a combination of high-powered beams.
Once launched, Jabiru-1 will deliver high-bandwidth communication services to
government and enterprise markets including mining, oil, gas, media and carrier-grade telecommunications, across countries such as Afghanistan, Iraq, Pakistan, Saudi Arabia, Somalia and India.
NewSat is being advised on the Jabiru-1 project by ArgoSat Advisors.
In commenting on the agreement with Arianespace,
Adrian Ballintine
,
NewSat Founder and CEO
said:
"Arianespace is the best satellite launcher in the world
. They have proven reliability and account for more than half of the commercial launch contracts worldwide. We are therefore very pleased to announce the most trusted and premier launch service provider as our partner, to launch our first satellite, Jabiru-1."
"
Applications previously lodged with export credit agencies U.S. Ex-Im Bank and Coface are progressing well, with Arianespace actively assisting with Coface till closure
." "We now have a satellite being built and launched by the world's best vendors,
Lockheed Martin and Arianespace, and combined with US$279 million of cornerstone customer contracts
, NewSat is rapidly transforming into a global satellite operator."
In commenting on the agreement with NewSat,
Jean-Yves Le Gall
,
Arianespace Chairman and CEO
said: "Arianespace is very proud of NewSat's decision for Jabiru-1. NewSat is a well established Teleport operator, providing world-class satellite services around the world. Over recent times we have watched with interest as NewSat has grown and we look forward to the opportunity to launch many more of their satellites."
"
It provides us great pleasure to be part of the launch of Australia's first independently owned commercial satellite
and we wish NewSat all the best in the future as it takes the next step, in becoming a satellite operator".