Wildfires are hideous, killing everything in their paths, creating their own weather systems, they are financial money pits that require equipment and human power necessary to valiantly try to tame the hellish flames. Here's an article that states the team effort to try to quell the many fires currently burning across British Columbia.
With more than 180 fires burning across B.C., coordinators at provincial and regional wildfire centers face the monumental task of deciding which blazes to battle and which to let run.
It starts with detecting fires.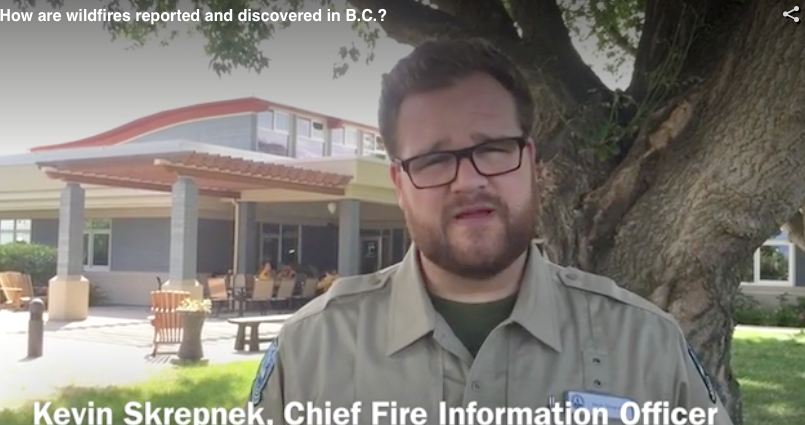 Chief fire information officer Kevin Skrepnek said most fire reports come in through the public.
"The public is definitely a key part of our response," he said. "The more reports we get about a fire the more effective our response is going to be, so we encourage people to call."
Other methods include using an Environment Canada system that detects lightning, allowing them to watch lightning systems as they move across the province and tell whether they are positive or negative strikes. Positive strikes are further away from the centre of a storm and tend to be dry and more powerful.
"We use that to dictate where we're going to start looking for fires," he said.
An open-source satellite technology that detects heat is useful as well.
Fires are also found the old-fashioned way, with ground patrols, fire wardens, staff and air patrols.
A number of factors go into deciding which fires to fight.
"It's based on the individual factors of that fire and also what we're dealing with provincewide," Skrepnek said. "Obviously now we're focusing all of our efforts on public safety, keeping our highways open, infrastructure and of course on these major fires we have in the southern part of the province."
For example, there are fires burning in the wilderness that are being monitored but not actively fought because they are not a threat to infrastructure, people or the environment.
Local fire centers and the provincial centre have coordination officers who make the bulk of the decisions about where to send staff and resources.
The province is divided into six fire regions: Cariboo, Coastal, Kamloops, Northwest, Prince George and Southeast. Skrepnek said resource allocation decisions are made within those fire centers.
"They're going to be looking at activity out there, they're going to be dispatching crews, they're going to be getting a sense of what's going on out there and allocating as they see fit," Skrepnek said.
The Provincial Wildfire Coordination Centre, which is in Kamloops, moves resources between fire centers. For instance, the bulk of the fire activity is in the Cariboo and Kamloops fire centers, so some resources are being pulled out of the Coastal and Southeast centers and sent where they are needed.
The coordination centre is also where resources are brought in from within and outside of the province.
"It's sort of a tiered approach so the regions can focus on what they've got going on locally," he said.
Skrepnek said this fire season has been stressful so far, but even with the large number of fires and evacuations there have been no major injuries or fatalities.
"I think we've done the best job we could, kind of, given the cards we were dealt," said Skrepnek.