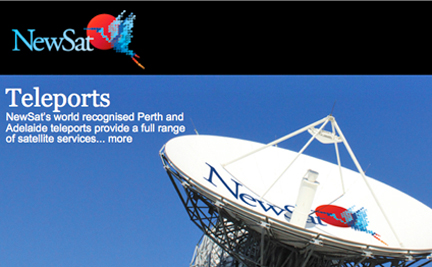 [SatNews] NewSat Limited (ASX: NWT) has a new teleport customer contract to support the US Government's Custom SATCOM Solutions (CS2).
The contract with a CS2 Industry Partner is to provide satellite communication services to the US Department of Defense (DoD) in the Pacific Command (PACOM) region. NewSat's contract has a base period along with three one-year option terms, which if exercised, has a total contract value of $1.1 million.

NewSat's partner has secured service commitments through the CS2 contracting vehicle that will be used to provide customized, customer-defined, end-to-end solutions including satellite bandwidth, teleport access, network management, satellite communications equipment, and engineering support. The contract is the second CS2 Industry Partner contract NewSat has signed. On 16 October 2013, NewSat announced a $2.4 million contract with a US Government (USG) systems integrator, taking the total value of contracts supporting CS2 Industry Partners to $3.5 million.

The Custom SATCOM Solutions will assist emergency response and disaster recovery communications systems; satellite-based back-up communications networks; distributed distance learning networks; and communications on the move solutions for DoD applications.
For further details, head over to http://www.newsat.com/Teleports/teleports.html