The final Soyuz-U launch vehicle with the argo spacecraft Progress ÐœS-05 aboard successfully lifted off from the Baikonour Space Center at on February 22 at 08:58 MT.
As specified by the spacecraft's flight program, the first three stages of Soyuz-U delivered the cargo spacecraft into LEO just short of eight minutes and forty-nine seconds after the liftoff and the Korolev Mission Control Center specialists took the Progress MS-05 flight to ISS under their control.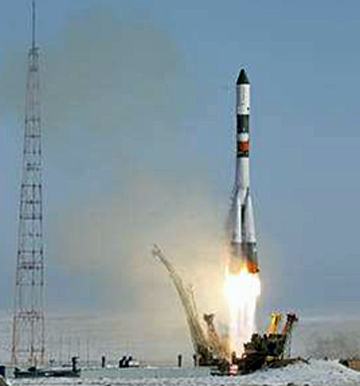 According to telemetry data, the spacecraft insertion into LEO and separation from the third stage of the launch vehicle occurred on schedule. The deployment of all antennas and solar array panels was detected immediately after the cargo spacecraft's separation. Systems and assemblies of the spacecraft are all operating as expected.
The docking of Progress MS-05 to ISS module Pirs is scheduled at 11:34 MT February 24, 2016. The ISS docking process will be in automatic mode and under control of the Russian ISS crew members Sergey RYZHYKOV, Oleg NOVITSKIY and specialists of Russian ISS segment flight control group in Korolev MCC.
The spacecraft will deliver to the station about 2.5 tons of propellant components, compressed gases, water, scientific equipment and consumable for the life support system, Orlan-MKS space suit as well as containers with food, clothing, medical supplies and personal hygiene items for the members of the crew.