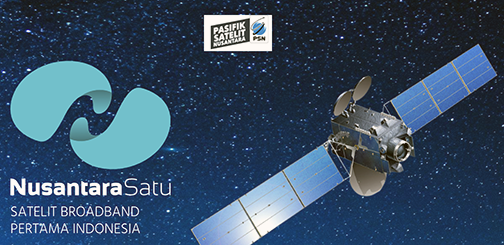 PSN Consortium signed a Public Private Partnership (PPP) agreement with the Government of Indonesia, represented by Ministry of Communication and Information Technology (MCIT), for the Multi-Functional Satellite (MFS) named SATRIA.
The SATRIA satellite is a 150 Gigabytes per second (Gbps) Very High Throughput Satellite (VHTS) to cover the entire Archipelago of Indonesia, providing high speed internet to serve 98,000 schools, 40 thousand district and sub-district administration offices, community health centers and other local government offices. The SATRIA satellite is planned to be launched at the end of 2022 or in early 2023.
The 15 years PPP contract is valued about Rp 21,7 trillion (equivalent to $1.47 billion) to provide a satellite, launch vehicle, 11 gateways, a start-up hub as well as 15 years operational cost.
PSN Consortium consists of Pasifik Satelit Nusantara (PSN), PT Pintar Nusantara Sejahtera (financial holding company of PSN), PT Dian Semesta Sentosa, and PT Nusantara Satelit Sejahtera will provide the full SATRIA network.
As an interim solution, PSN — through the recently launched Nusantara Satu satellite — will provide the largest portion of the requirement satellite capacity to BAKTI (Agency for Accessibility for Telecommunication and Information Technology). This interim solution together with other current users will provide a substantial load to the Nusantara Satu satellite.
PSN and its partners are planning to launch Nusantara Dua satellite in early 2020 to anticipate the ever rising demand of satellite capacity in Indonesia. PSN and its partners with Nusantara Satu, Nusantara Dua and SATRIA satellite will become one of the largest regional player in Asia-Pacific region.
Adi Rahman Adiwoso, the CEO of PSN, said the PSN consortium is privileged to provide such key infrastructure for the development of Indonesia and all hope this network will make internet accessible throughout all of Indonesia.