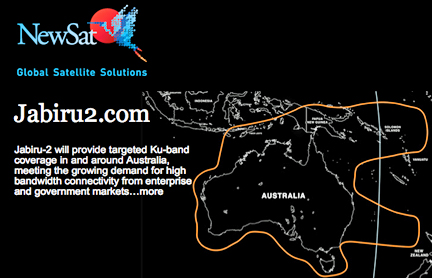 [SatNews] NewSat has announced that the MEASAT-3b satellite, which hosts the Jabiru-2 payload, has officially commenced commercial service.
One (1) month after the successful September 12th AEST launch, satellite manufacturer Airbus Defence and Space has concluded the in-orbit testing of MEASAT-3b and the satellite is now operational. Led by Airbus Defence and Space in Toulouse, MEASAT-3b completed Launch and Early Orbit Phase (LEOP) operations and in-orbit trials. In regard to the satellite payload, tests were carried out at the MEASAT Teleport and Broadcast Centre near Kuala Lumpur, Malaysia. These facilities are also where the satellite will be controlled during its expected 15 year operational life.
MEASAT-3b is based on Airbus Defence and Space's proven Eurostar E3000 satellite platform. It is the 34th satellite of this type to have been successfully launched and placed into operation since 2004. Jabiru-2's 216MHz (6 x 36MHz) of Ku-band capacity provides highly targeted coverage across Australia, Timor Leste, Papua New Guinea, and the Solomon Islands; satisfying the growing demand for reliable and cost-effective communications from the oil, gas, mining, media, aeronautical, maritime, telecommunications and government sectors.
In commenting on this significant moment for NewSat, Chief Technology Officer David Ball said, "The satellite is now active and operational, it's collocated with the other two Malaysian satellites in that location (91.5 degrees East) and we are commencing service on Jabiru-2 now. We have our first carriers up on the satellite and it's a very exciting time for NewSat's customers."
"The big benefit of the Jabiru-2 program for us, compared to leasing capacity of an existing operator, is that we were able to work with MEASAT to design the beam exactly the way we wanted it to look, the coverage area, the power focus and the peak performance area. It's a great opportunity for us to have design influence in the early days and our operations team is now scaling up their activity and their involvement to a greater degree than we have in the past. It's a good exercise for us to go through as we approach launch of Jabiru-1."
The NewSat infosite: http://newsat.com/
The MEASAT infosite: http://measat.com/